06/23/2011
Call of Duty has tens of millions of fans worldwide. It's no surprise that the latest installment in the franchise, Modern Warfare 3, has generated interest at an all-time high. We love all of our fans equally, and at times we get visit requests that turn us into fanboys too. Most recently, that included a visit from Glen Schofield's beloved New York Yankees.
"I'm a native of New York. I grew up in New Jersey and Manhattan so I'm a huge Yankees fan. Having the opportunity to hang with these guys while showing off our game is a once in a lifetime experience." says Glen. "Seeing Nick Swisher on the controls and playing the Hunter Killer level in New York Harbor was pretty neat. You can tell he's a fan."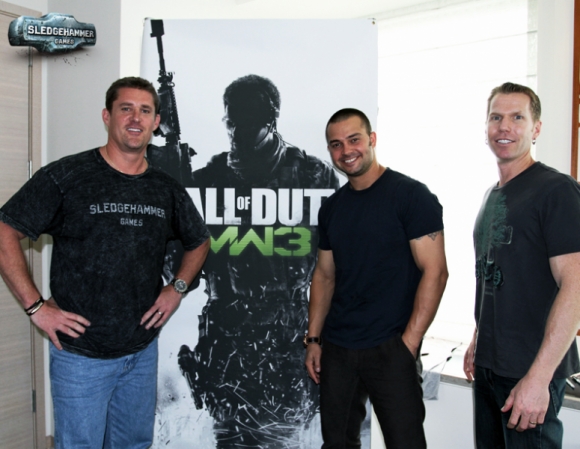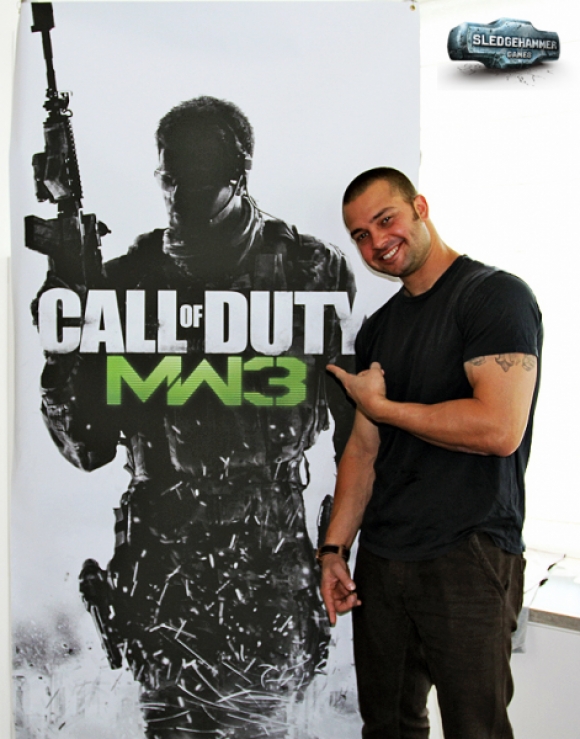 Nick Swisher wasn't the only Yankee in the house. Left Fielder Chris Dickerson showed off his skills. Pitchers David Robertson and Joba Chamberlain also hopped on the controls and played.
Glen continues. "The cultural impact of video games is really high. A lot of pro athletes today proudly claim they play video games as a way to relax. I know these guys travel a lot during the season. It was clear some bring their systems with them on the road just to stay competitive."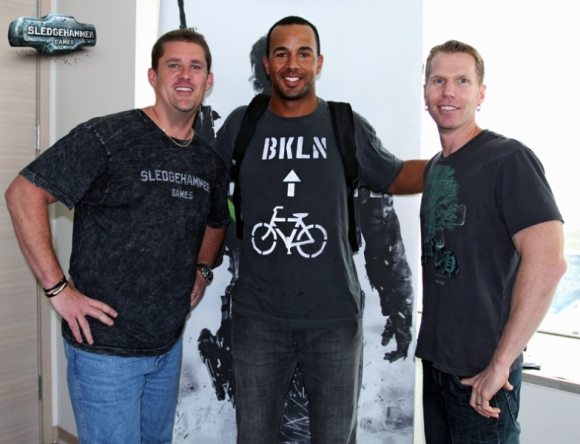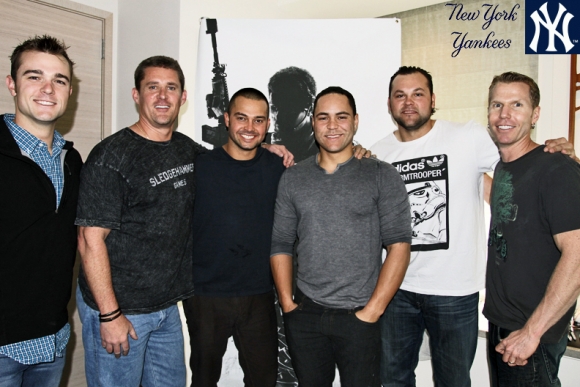 Sledgehammer Games thanks the New York Yankees, and all of our fans, for their continued excitement and support. We can't wait for November 8th, 2011 to share Modern Warfare 3 with you guys.
Make sure to check out our Facebook Page for more pictures!
Written by Guy Beahm
Categories Culture, Modern Warfare 3
06/21/2011
E3 2011 kicked off in a huge way with Sledgehammer Games and Infinity Ward showing off Modern Warfare 3 at the Microsoft Press Conference. The Sledgehammer crew was representing in full force with their MW3 shirts and hats while passing out MW3 decals. We've captured plenty of pictures to share so we hope you enjoy!
"E3 is the video game industry's largest annual US tradeshow," explains Michael Condrey, Co-founder and COO of Sledgehammer Games. "It's the chance for hardware and software developers to show off their latest creations. I always enjoy participating in the show - it is an exciting opportunity to see, in one place, the best of what is happening across the industry." Michael explains, "The developers at Sledgehammer Games pour their hearts and souls into making great video games. At the core of our studio culture is a commitment to the pursuit of excellence, and E3 gives us an opportunity, on a large scale, to validate that our software is meeting and exceeding that promise to the fans."
"This was my first E3." says Community Manager Guy Beahm. "I've always wanted to go, but until I started with Sledgehammer Games, like most fans, I only read about it online, or caught streamed videos from the conference. It was a great experience, especially being there with the Sledgehammer Games crew. The Activision booth was by far the biggest attraction at the show. Every couple of hours, the screens surrounding the booth would drop and boom, you're immersed in a MW3 cinematic world for 15 minutes. The audio was intense, the choreographed visuals between the screens were powerful, and most importantly, the reception was fantastic!"
Steven Spielberg is a fan!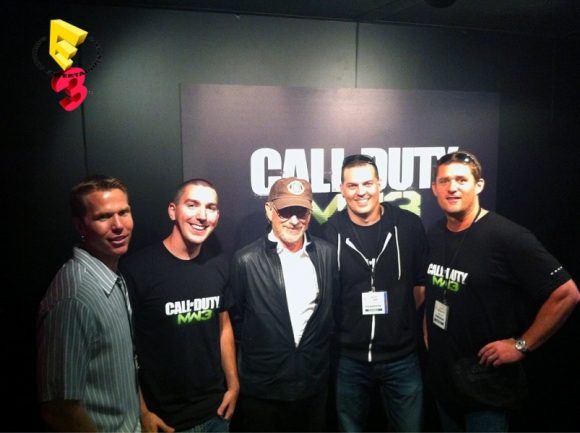 "The outpouring of interest and support for Modern Warfare 3 from the media, fans, retailers, and other developers was astonishing." says GM Glen Schofield. "I could not have been more proud of the work that Sledgehammer Games and Infinity Ward co-developed, or Activision's support with its best in class booth design. Based on what I saw at the show, gamers have a ton to be excited about this fall."
Additional E3 Media Links featuring MW3:
Gametrailers: http://www.gametrailers.com/video/e3-2011-call-of/715367
Gamespot: http://e3.gamespot.com/video/6318086/#toggle_video
IGN: http://www.ign.com/videos/2011/06/07/e3-2011-ign-live-modern-warfare-3?show=HD
We hope you enjoyed our E3 Wrap-Up! To view more pictures, head over to our Facebook Page.
Written by Guy Beahm
Categories Culture, Modern Warfare 3
06/02/2011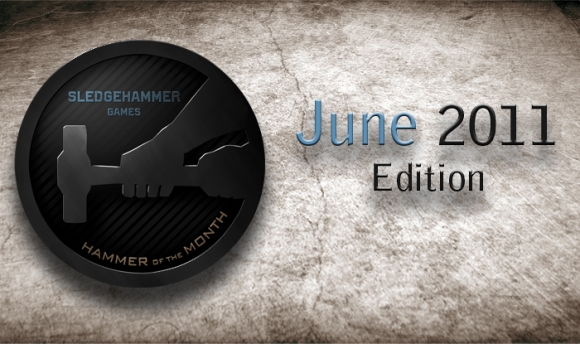 Welcome to Hammer of the Month, June 2011 Edition!
Do you have a YouTube channel? Are you ready to show off your design scheme and talent? We're looking for an elite YouTube channel that best represents the Sledgehammer Games community.
We want to see you ingeniously transform your channel into a Sledgehammer Games/Call of Duty showcase. We are looking for the ultimate depiction of what the franchise and our studio means to you, the ultimate fan.
Bonus points will be awarded for custom designs, unique artwork, and any SHG specific video content. We had loads of entries for our May contest, so we expect the competition to be high. Bring your A game and let's keep this baby rockin!
Like always, the winner will receive the Tool Box of Chaos.
So send us a link to your YouTube channel to contest@sledgehammergames.com
Deadline for submission is June 30th, 2011.
Winner will be announced at the beginning of July's contest.
Written by Guy Beahm
Categories Culture
06/01/2011
And the winner for the first ever Sledgehammer Games Hammer of the Month Contest is….
Stephen (Tipsy)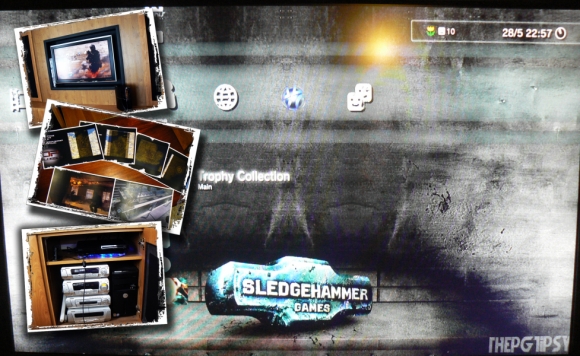 Congratulations!
We had a ton of entries in this month's competition. It was hard to pick a winner. Thanks to all who sent in their unique, crazy, and many times inappropriate submissions!
"Why is my setup the best gaming set up?" Stephen says. "The surround sound means that you're always aware of people trying to sneak around in FPS games and it's especially helpful in Modern Warfare 2 to combat those using ninja and/or trying to sneak around. Couple this with the big unit devoid of distractions and a big TV makes for quite an immersive gaming experience. Plus the sofas are mega comfy to say the least!" It also didn't hurt that Stephen sent me a giant box of cash and a poem titled "Ode to Sledgehammer Games"
Stephen's prize from the Tool Box of Chaos will be in the mail real soon. Maybe he'll do a prize unboxing for everyone!
UPDATE! (6/10/2011)
Stephen has posted an unboxing video. Check it out: http://media.photobucket.com/image/recent/woodpure100/ae2a20fb.mp4
The Hammer of the Month Contest for June will be announced tomorrow.
Written by Guy Beahm
Categories Culture
05/03/2011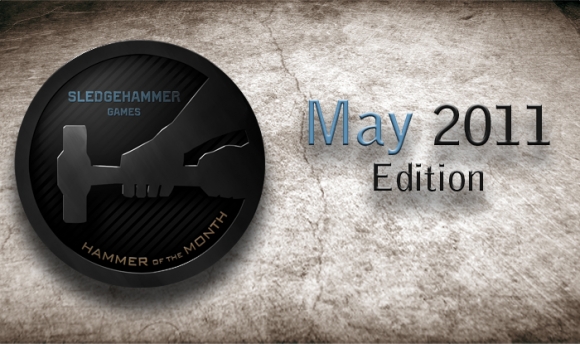 Welcome to our first Hammer of the Month contest!
Here at Sledgehammer Games we celebrate excellence. We know our fans are passionate, creative and unique. This contest is where you get to show why this community is the best!
Along with the fame that comes with being showcased on our blog, Hammer of the Month winners will also receive a random prize from the Tool Box of Chaos. What's inside this box?
It could be Sledgehammer Games apparel, a rusty nail, a signed piece of development memorabilia, a leprechaun ... who knows, it could be anything!
So who gets to claim the first ever HotM title? Let's find out:
Do you think you have the sickest gaming setup of all-time? Do you have the ultimate display of gaming passion? Does it have a Sledgehammer theme? Send us pictures and/or video links along with a description of why you have the best gaming setup to contest@sledgehammergames.com.
Deadline for submission is May 27th, 2011.
Winner will be announced at the beginning of the June contest.
Good Luck!
Written by Guy Beahm
Categories Culture