10/10/2011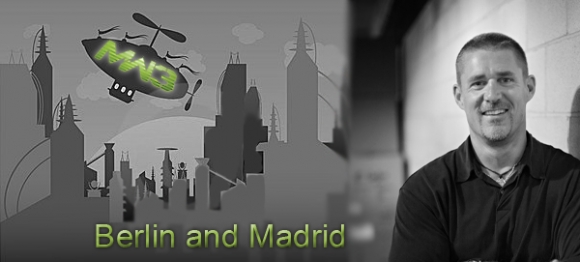 Day 15: We landed in Berlin around 3:00pm but there was a rollerblading marathon going on so getting to our hotel started off bad. Our driver was a true daredevil and hopped a curb and took some sidewalks to get us closer. But the hotel was in the middle of the marathon so we walked with our luggage the last half mile.
The hotel was a bank headquarters from the 40's. It was massive inside. Thankfully the rooms were massive. Since we were spending 4-5 days here it was good to have some space with a gym as well. That night we had a true German dinner.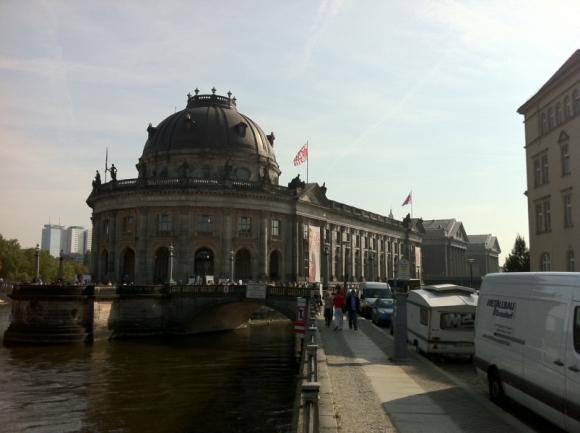 Day 16: The next day we set up, rested and then walked around for a bit. It was also the day in which thousands jammed the streets for a local marathon so we were virtually surrounded by people. Supposedly this is as big as the NY Marathon with people arriving from all over the world. Very cool!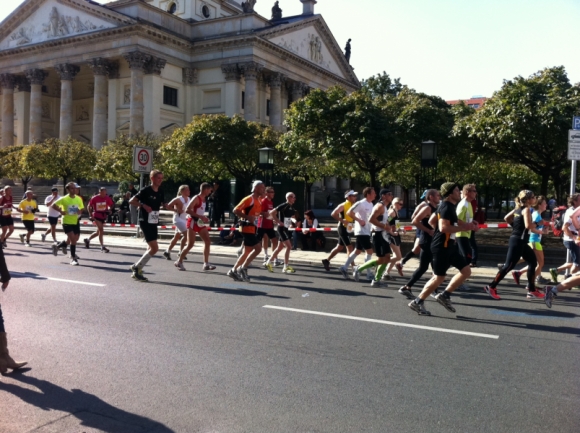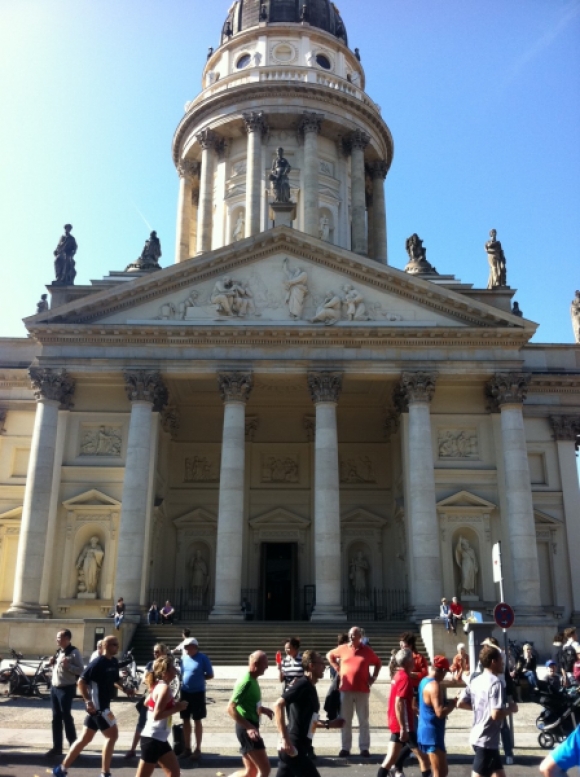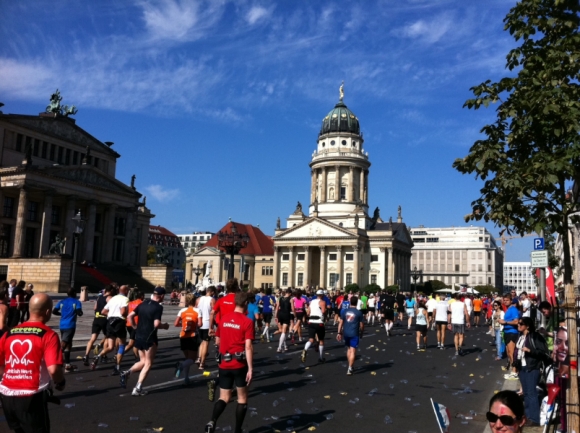 We headed to the Brandenburg Gate, a familiar landmark forever linked to the Cold War. It was a fitting end for the Marathon's finish line. After a long day we got some rest for the upcoming days of interviews and demos. That evening we had a special dinner with three guys from the MW3 Series Community with over 28,000 members. We had a good time!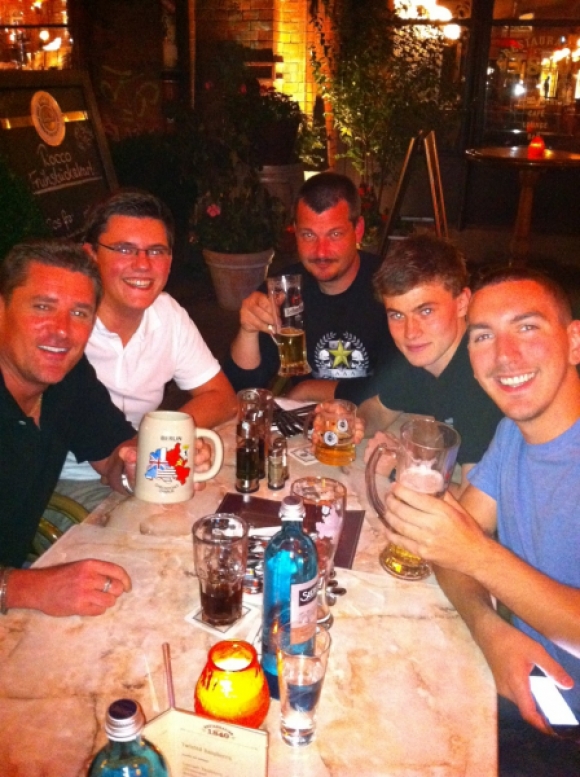 Day 17: The event was held at our hotel so no cabs to the event which was a relief…Nice setup by the German team. Robert and I started at 9:00am giving demo setups and game overviews. After the demos (I think we did 6 or 7) we then prepared for our 1 on 1 interviews. We probably averaged three to four each so there was a lot of interviewing going on.
Day 18: The next day was more of the same in the morning. Early afternoon, we jumped in a cab and headed to a big Radio Station. The venue was quite fun with an open atmosphere and two excellent hosts. This will be broadcasted soon which we'll link for you guys.
Then it was time to pack up and hit the road once again. Josh and I did this trip alone as Shannon and Robert split to Helsinki. We had a 3 ½ hour flight to Madrid. We landed around 11or so… What an amazing airport!
Day 19-20: Madrid is spectacular! I've been there before but never stayed long enough to see much of it. First couple of days was setup and getting ready for Gamefest which was in its second year. We had a very nice booth with a theater to demo and then a private room upstairs to interview. Mike Mejea flew in to do the demoing. He worked his butt off the whole time. The event itself was really nice and I can see it growing into a major European event. Our booth always had long lines, sometimes up to four hours which we then worked to speed up. It's a hard balance because we need to give everyone enough time to enjoy the game. Great day. At the end, we were beat.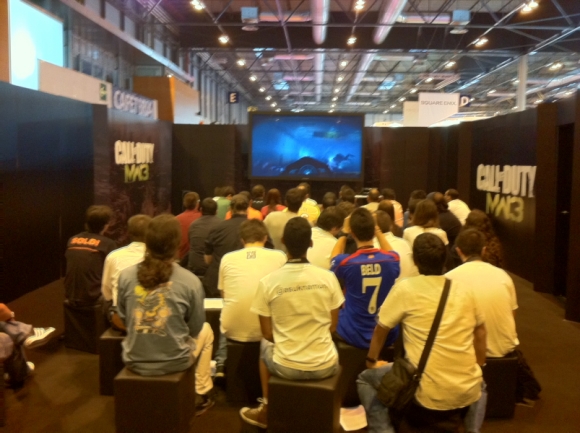 Day 21: Next day we were up early and doing the same. Again, the morning consisted of non-stop demos and interviews. Monica and her crew did a fantastic job getting all the press. In the afternoon we set a place for me to sign posters. I didn't think we'd have that many interested. After an hour and over 700 posters signed there was still a huge line waiting! They stopped me so I could get a break. After that we tried checking out the show but so many people stopped me for autographs we just left. That was cool!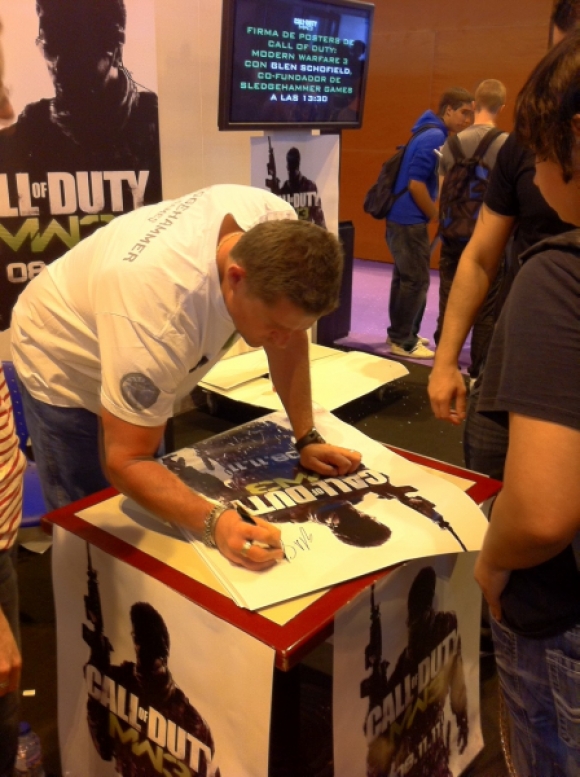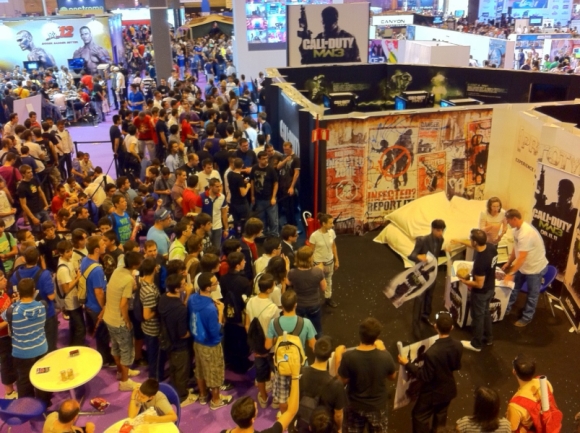 Day 22: Another day full of interviews, poster signers etc. but in the afternoon we had an awards show. We took the first big prize "Best Action" game. I gave a tiny acceptance speech. We won a few more as well. Everything about Madrid was just great.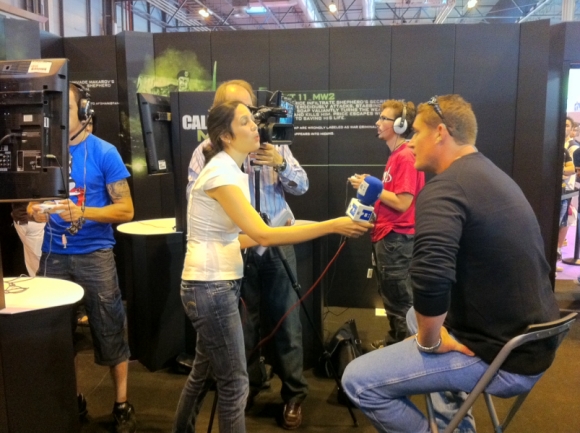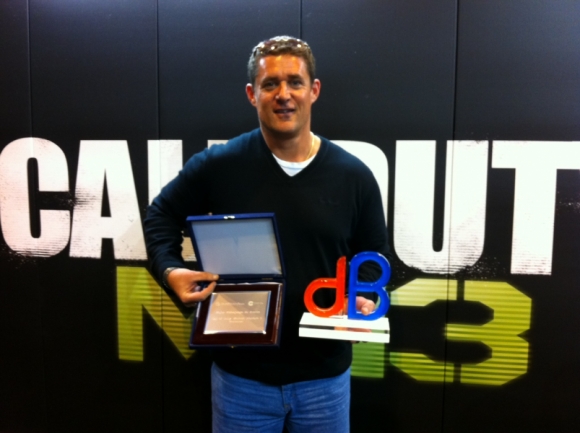 We wrapped up the day with nice dinner with Mike and Josh. Next I got on a plane for Stockholm. Never been there!
Looking forward to it.
Follow Glen on Twitter for daily MW3 World Tour updates.
Look back at Glen's previous destination, Paris and Milan: http://sledgehammergames.com/blog/view/74
Written by Glen Schofield
Categories Culture, Modern Warfare 3
10/04/2011
Every once in a while the crew at Sledgehammer Games puts their cooking skills to the test with a traditional lunchtime potluck. This time around, in keeping with the theme of Call of Duty: Modern Warfare 3, the food was inspired by "Paris."
The team brought in their interpretations and renditions of plates that reminded them of France. Here's a short list from our prestigious cooks:
Beef Bourguignon– Beef stew braised in red wine
Ham Quiche– Deep Dish Ham Pie
Spinach and Pine Nut Quiche
Crepes Suzette– French Dessert
Bamh Mi– Traditional French countryside salad sandwich
San Vuong going to work on the Beef Bourguignon!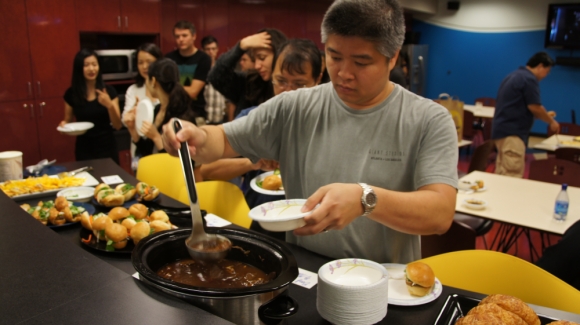 Did someone cut in line? A food argument and fight ensues…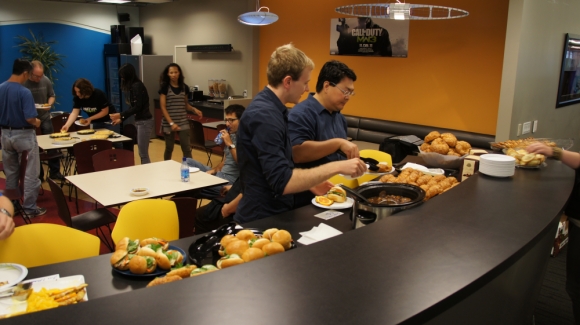 It only makes sense to have a variety of pie choices right?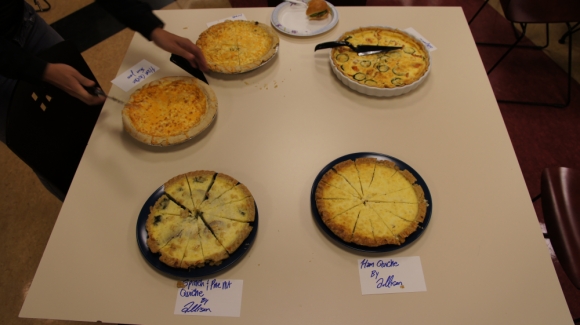 Mmmm, Delicious!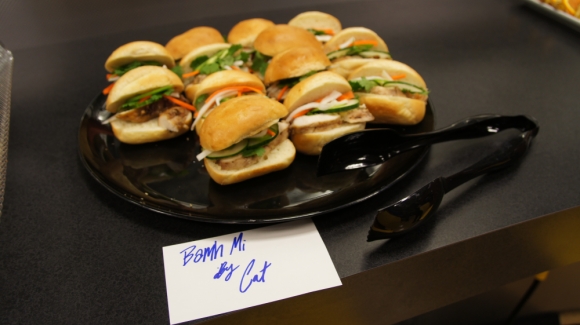 Written by Guy Beahm
Categories Culture
10/02/2011
And the winner of our September Hammer of the Month contest is...
Ryan Banks, aka Prestige is Key!
Congratulations Ryan! Your badge collection is top notch. It looks like you experienced most if not all the events from Call of Duty XP. You definitely blew away my puny collection of just two badges!
Check out Ryan's Collection: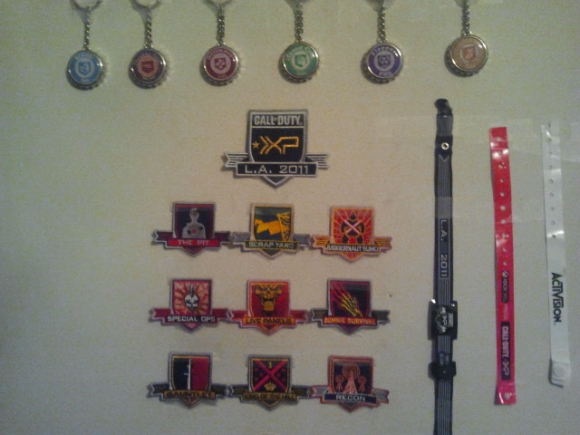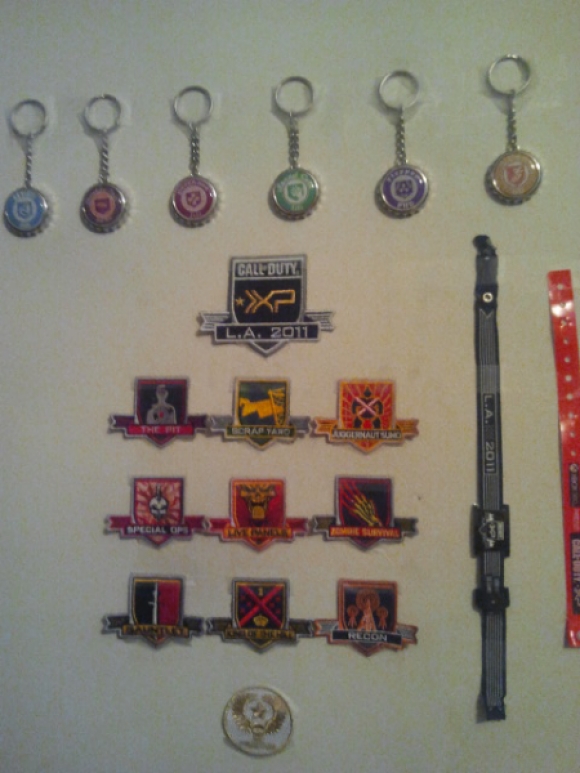 Well Ryan, the crew here at Sledgehammer Games is jealous of your badge assembly. We're also jealous of the prize you'll be receiving in this month's famous Tool Box of Chaos! What's in it you ask? Just like every other Tool Box of Chaos, you'll have to wait and see!
TOOL BOX OF CHAOS UNBOXING UPDATE: 10-19-2011
Once again, we had a lot of entries this month. We want to thank everyone for playing!
Are you ready for October's Hammer of the Month contest announcement? Well here it is: http://sledgehammergames.com/blog/view/81
Make sure to stay up to date on all things Sledgehammer:
Written by Guy Beahm
Categories Culture
09/26/2011
On October 15th, people across America will be gaming for 24 hours straight in order to raise money for the Children's Miracle Network Hospitals. Sledgehammer Games will be participating in this wonderful charity event by playing, yup you guessed it, MW3 Multiplayer!
Help support Sledgehammer Games and the cause by clicking on the picture below. From there you will be able to pledge by clicking on one of the Sledgehammer Games' staff:
Get involved, pledge today, and make a difference!
Thank you!

Actual Link: http://www.extra-life.org/team/sledgehammergames
Written by Guy Beahm
Categories Culture
09/20/2011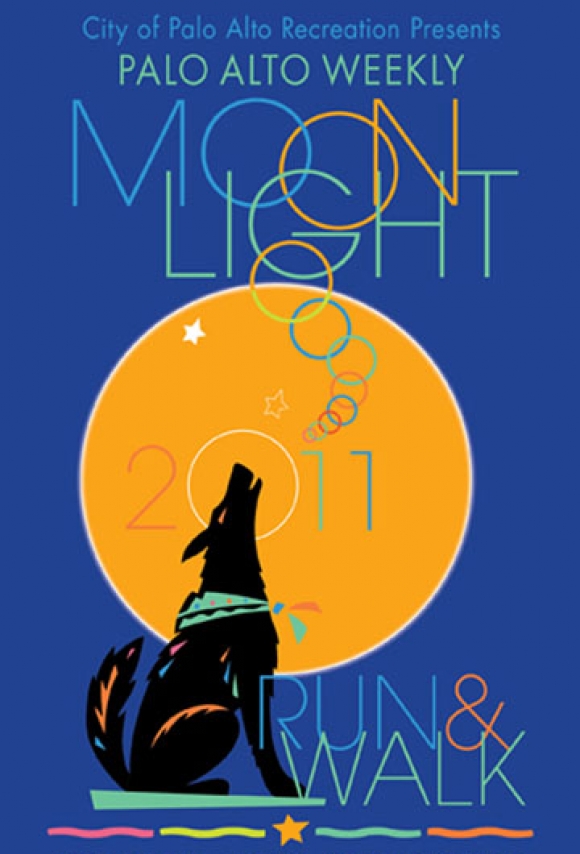 Some of the Sledgehammer Games crew recently joined the 27th annual Palo Alto Weekly Moonlight Run and Walk at the Baylands. This Palo Alto tradition attracts 1,000's of runners and walkers from throughout the Bay Area, along with major sponsors.
All proceeds benefit the Palo Alto Weekly Holiday Fund for local charitable organizations.
"It's just great being in good company with friends doing the things we enjoy together!" says Joe Salud, Art Director at Sledgehammer Games. "I think it's awesome how our studio by in large is health conscious and athletic!"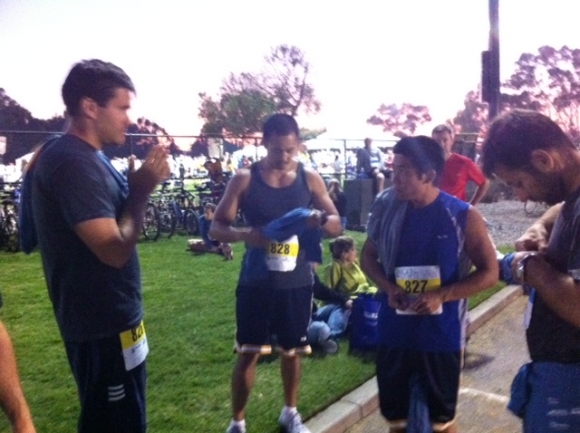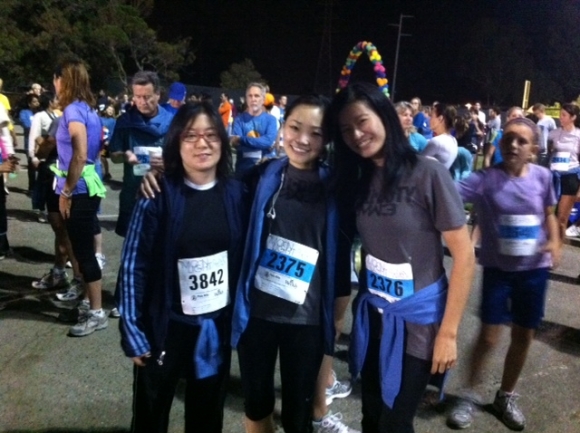 "I love doing charity rides/runs, and usually try to get friends to join me." says San Vuong, Associate Developer Manager at Sledgehammer Games. "These events bring together people to train, give individuals workout goals, and are a great showing of motivation and support on race day. I had a blast and it was a great experience seeing co-workers outside of work doing something together to build personal relationships, get healthier, and support a cause."
"The team run was awesome!" continues Allison Wright, HR Manager for Sledgehammer. "For many it was their first time entering a Fun Run, and to complete the run with the support of co-workers just built on the great camaraderie and team effort that has made Sledgehammer the amazing studio it is. With all the hard work the team has put into MW3, this was an opportunity to unwind on a Friday night and enjoy down-time with co-workers, while running to support a local organization, the Palo Alto Weekly Holiday Fund."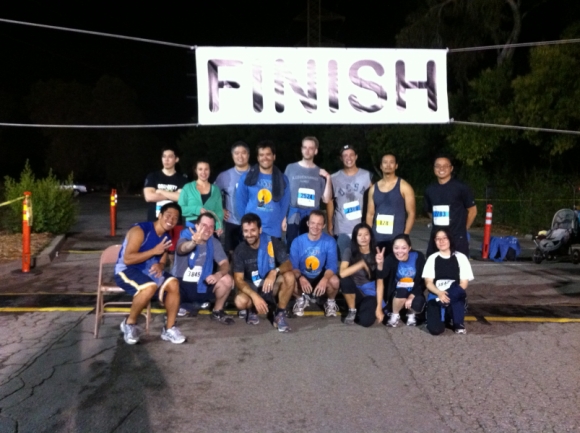 Planning for the next run started minutes after crossing the finish line!
Written by Guy Beahm
Categories Culture