09/15/2011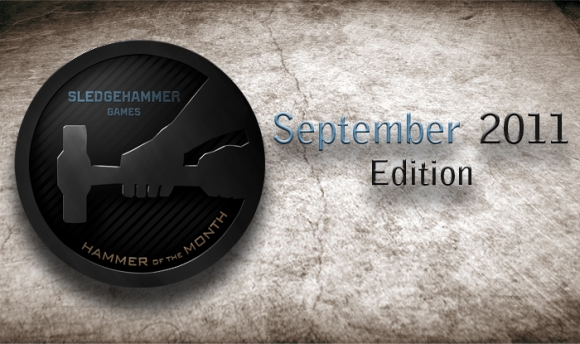 Welcome to Hammer of the Month, September 2011 Edition!
We had another great turn out for last month's Hammer of the Month Contest. Much to Michael's surprise, the end result was Glen's photoshop picture of him. Condrey promises retaliation. We'll see.
A lot of entries came in, trying to solve the Gamescom puzzle. The contest winner, and fastest puzzle solver, Sean K, came out winning this:
Help spread the word! Let's keep on rocking these!
Now for September's Contest:
At Call of Duty XP, through all the chaos, I managed to only capture two patches: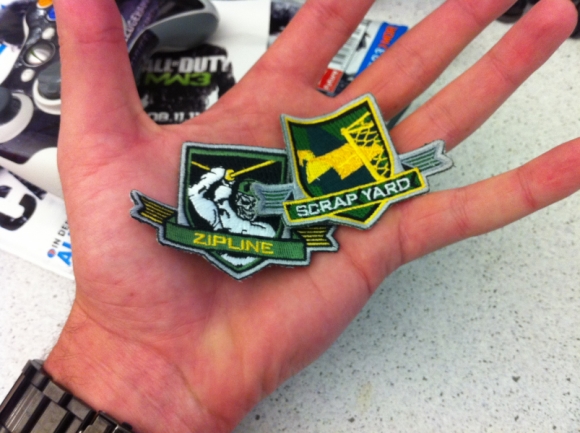 Anyhow, pretty pathetic that the Community Manager for Sledgehammer Games only collected two patches, right?
So I ask you guys, the attendees, how many patches did you collect from Call of Duty XP?
Take a picture of you with all your patches from the event. The person who submits the picture with the most patches to contest@sledgehammergames.com will become September's Hammer of the Month.
How many did you claim? Let's find out, don't be shy! In the event of a patch tie, the most creative patch display will win.
Deadline for submission is September 30th, 2011.
Written by Guy Beahm
Categories Culture
09/09/2011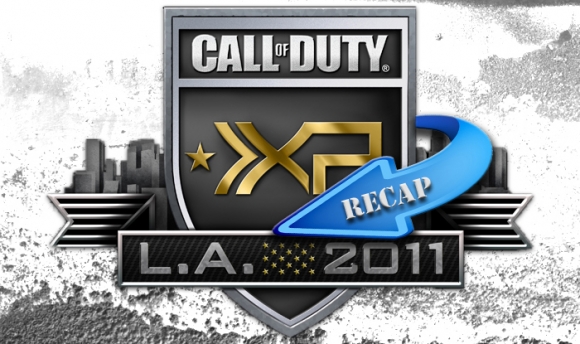 Call of Duty XP was an absolutely incredible event. The Sledgehammer crew was representing in full force once again rocking our MW3 shirts. We've captured plenty of pictures to share here so we hope you enjoy! You can also check out more photos from the event on our Facebook page. In addition to photos, we've decided to share some of our experiences first hand with an official Sledgehammer Games Call of Duty XP recap video featuring Co-founders Glen Schofield and Michael Condrey. Watch it here:
"When we first drove up to the venue, I was instantly blown away." says Community Manager Guy Beahm. "Everything we've been talking about and envisioning was finally here, alive. The Scrapyard recreation was insane, Burgertown was thriving, the Jeep experience was a hit, and the fans were rocketing across the air on the zip line. Crazy"
Guy continues, "While all of that was taking place outside, inside was the real star… MW3. Being hosted in two HUGE hangars, Call of Duty: Modern Warfare 3 Multiplayer and Spec Ops were being showcased everywhere. The One Million Dollar Tournament fueled the intensity of the multiplayer experience, attracting some of the best players and teams in the world. Outside of the game there were various events including panels, Pros vs. Joes competitions, Juggernaut Sumo Wrestling and concerts from Kanye West and Dropkick Murphys."
"The event was particularly special for the development team at Sledgehammer Games. We have poured a ton of passion, energy, and sweat into the development of MW3, with one singular goal: to help make this the biggest and best Call of Duty game to date. For us to be there, with the fans, was incredible. Whether you watched the live stream or experienced it first hand, I think everyone walked away pretty amazed! If it weren't for the fans, an event of this magnitude would never exist, so thank you!"
Written by Sledgehammer Games
Categories People, Culture, Modern Warfare 3
08/22/2011
And the winner of our August Hammer of the Month contest is...
Sean Kilbane from Albuquerque, New Mexico.
Congratulations Sean! You managed to be the first to successfully compile and submit a completed 'Picture' from all five of the small pieces which were attached to the end of each Gamescom Recap. Here was the winning result:
Surprise!!!!!!!!
Well Sean, looks like you'll be receiving our famous Tool Box of Chaos! What's in it you ask? Just like every other Tool Box of Chaos, you'll have to wait and see!
Once again, we had a lot of entries this month. We want to thank everyone for playing!
Keep on the lookout for September's Hammer of the Month contest announcement.
Make sure to stay up to date on all things Sledgehammer:
Written by Guy Beahm
Categories Culture
08/19/2011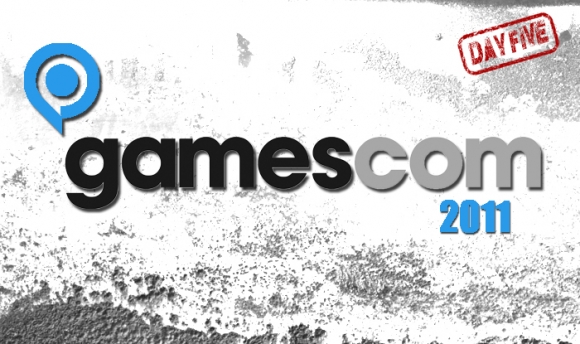 Gamescom | Final Day
Hammers,
Today was Sledgehammer Games' last day at Gamescom… and we ended strong! When we arrived at the convention, the Activision press area was already busy. Glen and Michael were quickly pulled away to do interviews and so I made my way to the demo room to help demo our new Spec Ops Mission, Invisible Threat. Read more about the Spec Ops: 'Invisible Threat' experience in this great article: http://www.el33tonline.com/past/2011/8/18/gamescom_2011_intense_cod_modern/
Glen with Gamerspawn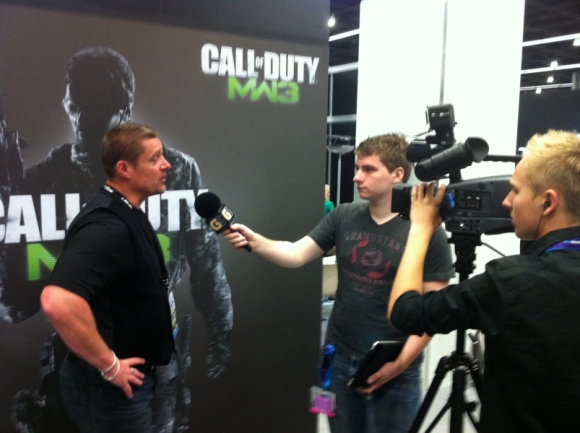 It was an extremely full day in the press room…which was fantastic! Just like the two previous days, people absolutely loved the new Spec Ops experiences. Folks wanted to continue playing but unfortunately we had to keep the flow going because of how busy it got. Sorry guys... we'll make it up to you!
Interested to hear what others have to say about Spec Ops? Here are a few more great articles:
Joystiq - http://www.joystiq.com/2011/08/18/modern-warfare-3-spec-ops-preview-walk-slowly-and-carry-a-big-g/
Kotaku - http://kotaku.com/5832186/a-sniper-and-a-bombsuit-make-for-a-wondrous-modern-warfare-3-spec-ops-mission
At the end of the day, the crowds slowed down a bit. This gave Glen and Michael a moment to hop on 'Invisible Threat' themselves. If it weren't for Michael being good at sniping, Glen's juggernaut suit probably wouldn't have mattered one bit.
Sledgehammer Games Co-founders on Spec Ops Mission: Invisible Threat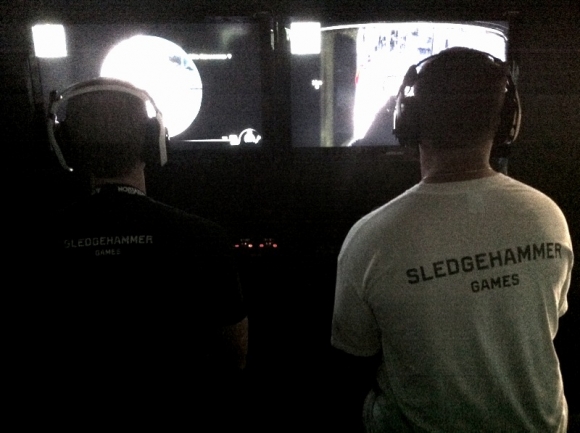 Although the Activision booth and Call of Duty: Modern Warfare 3 will remain at Gamescom until the event's last day (Sunday), Sledgehammer Games is heading home tomorrow. We had a wonderful experience here in Cologne, Germany. Lots of memories and good times! Most importantly, people are loving the game. We truly can't wait until the big Multiplayer reveal at Call of Duty XP in a few weeks and ultimately, the launch of MW3 November 8th, 2011.
We hope you enjoyed our daily recaps of Gamescom 2011! If you haven't done so yet, check out Michael's answer to our Question of the Week | Gamescom Edition. http://sledgehammergames.com/blog/view/60
Cheers!
Guy Beahm
Written by Guy Beahm
Categories Culture, Modern Warfare 3
08/18/2011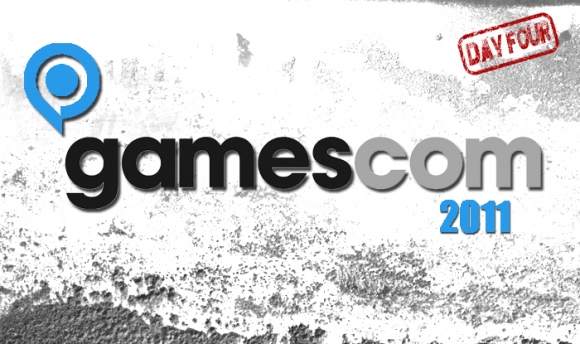 Hammers,
Today's recap is short but sweet!
The Activision booth was rocking with the second official day of Gamecom 2011. We say 'second' because it is actually the first official day for consumers and fans. Today's attendance was amazing. There were so many people... it was unbelievable.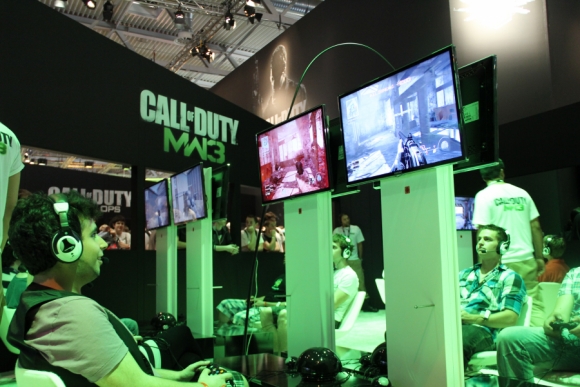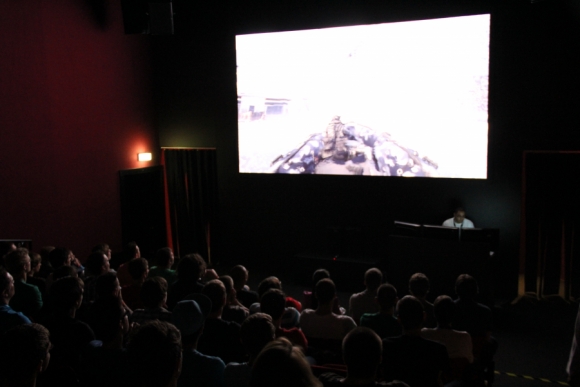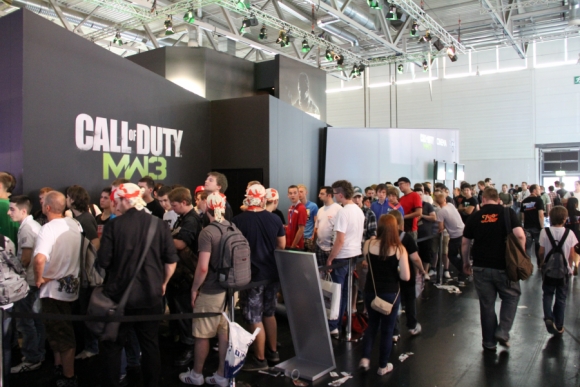 While the Activision booth was surrounded by Call of Duty fans eager to get their hands on the game, the upstairs press room was jammed pack all day as well. Spec Ops is proving that it's a force to be reckoned with.
To conclude, it was another busy but exciting day of showcasing our game for the press and fans in attendance. On our ride home, Glen shot this picture and I personally I think it's the perfect capture to end Day 4's Gamescom Recap.
Thanks guys!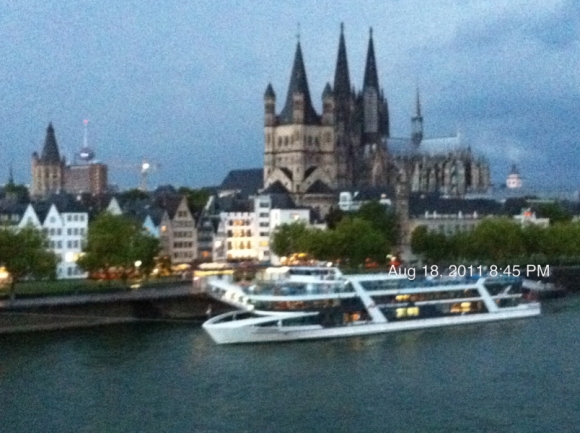 Look out for tomorrow's recap! Last picture tease for our August Hammer of the Month contest.
Cheers,
Guy
Written by Guy Beahm
Categories Culture, Modern Warfare 3