06/23/2011
Call of Duty has tens of millions of fans worldwide. It's no surprise that the latest installment in the franchise, Modern Warfare 3, has generated interest at an all-time high. We love all of our fans equally, and at times we get visit requests that turn us into fanboys too. Most recently, that included a visit from Glen Schofield's beloved New York Yankees.
"I'm a native of New York. I grew up in New Jersey and Manhattan so I'm a huge Yankees fan. Having the opportunity to hang with these guys while showing off our game is a once in a lifetime experience." says Glen. "Seeing Nick Swisher on the controls and playing the Hunter Killer level in New York Harbor was pretty neat. You can tell he's a fan."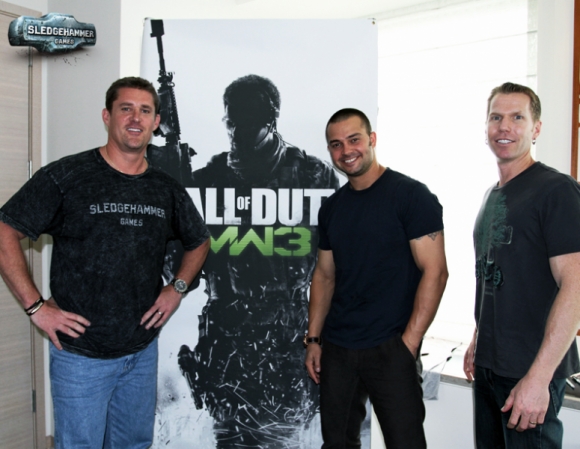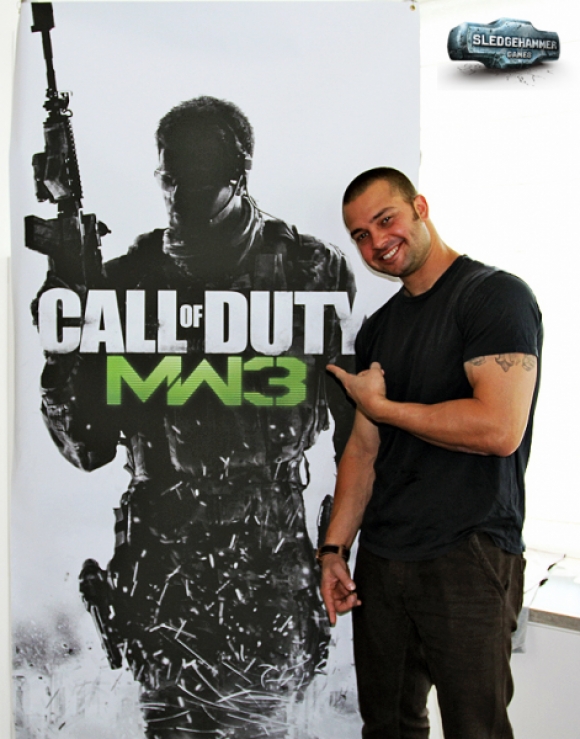 Nick Swisher wasn't the only Yankee in the house. Left Fielder Chris Dickerson showed off his skills. Pitchers David Robertson and Joba Chamberlain also hopped on the controls and played.
Glen continues. "The cultural impact of video games is really high. A lot of pro athletes today proudly claim they play video games as a way to relax. I know these guys travel a lot during the season. It was clear some bring their systems with them on the road just to stay competitive."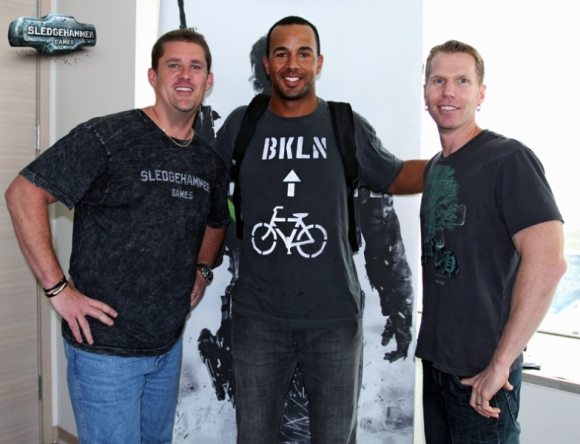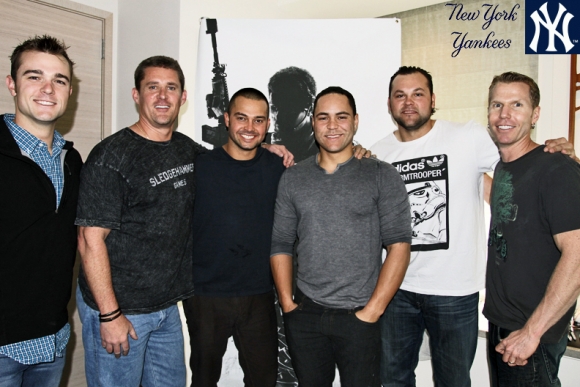 Sledgehammer Games thanks the New York Yankees, and all of our fans, for their continued excitement and support. We can't wait for November 8th, 2011 to share Modern Warfare 3 with you guys.
Make sure to check out our Facebook Page for more pictures!
Written by Guy Beahm
Categories Culture, Modern Warfare 3
06/21/2011
E3 2011 kicked off in a huge way with Sledgehammer Games and Infinity Ward showing off Modern Warfare 3 at the Microsoft Press Conference. The Sledgehammer crew was representing in full force with their MW3 shirts and hats while passing out MW3 decals. We've captured plenty of pictures to share so we hope you enjoy!
"E3 is the video game industry's largest annual US tradeshow," explains Michael Condrey, Co-founder and COO of Sledgehammer Games. "It's the chance for hardware and software developers to show off their latest creations. I always enjoy participating in the show - it is an exciting opportunity to see, in one place, the best of what is happening across the industry." Michael explains, "The developers at Sledgehammer Games pour their hearts and souls into making great video games. At the core of our studio culture is a commitment to the pursuit of excellence, and E3 gives us an opportunity, on a large scale, to validate that our software is meeting and exceeding that promise to the fans."
"This was my first E3." says Community Manager Guy Beahm. "I've always wanted to go, but until I started with Sledgehammer Games, like most fans, I only read about it online, or caught streamed videos from the conference. It was a great experience, especially being there with the Sledgehammer Games crew. The Activision booth was by far the biggest attraction at the show. Every couple of hours, the screens surrounding the booth would drop and boom, you're immersed in a MW3 cinematic world for 15 minutes. The audio was intense, the choreographed visuals between the screens were powerful, and most importantly, the reception was fantastic!"
Steven Spielberg is a fan!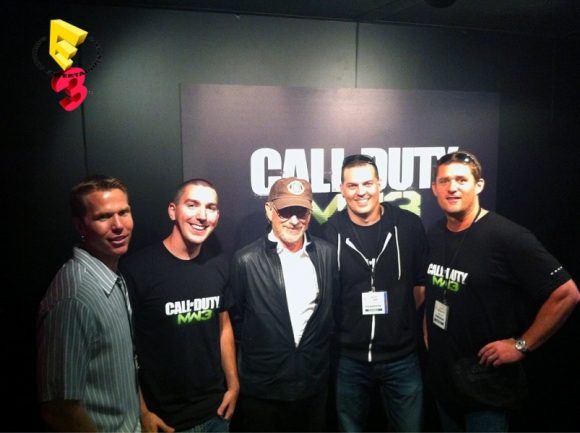 "The outpouring of interest and support for Modern Warfare 3 from the media, fans, retailers, and other developers was astonishing." says GM Glen Schofield. "I could not have been more proud of the work that Sledgehammer Games and Infinity Ward co-developed, or Activision's support with its best in class booth design. Based on what I saw at the show, gamers have a ton to be excited about this fall."
Additional E3 Media Links featuring MW3:
Gametrailers: http://www.gametrailers.com/video/e3-2011-call-of/715367
Gamespot: http://e3.gamespot.com/video/6318086/#toggle_video
IGN: http://www.ign.com/videos/2011/06/07/e3-2011-ign-live-modern-warfare-3?show=HD
We hope you enjoyed our E3 Wrap-Up! To view more pictures, head over to our Facebook Page.
Written by Guy Beahm
Categories Culture, Modern Warfare 3
06/17/2011
Sledgehammer Games and Infinity Ward talk shop in this exclusive backstage video from Late Night with Jimmy Fallon.
We raise the question: What's some of your favorite classic video games?
Written by Guy Beahm
Categories People, Modern Warfare 3
06/15/2011
The trip to the Jimmy Fallon Show started Sunday afternoon. Flying in a spacious exit row is the way to go.... especially when Michael Condrey is sitting next to you. You need all the distance you can get. The food was excellent, service good, but Condrey's incessant whining and crying every time we hit a little turbulence drove me crazy. Finally somewhere over Idaho I hit him over the head with my dinner tray. When he woke up three hours later I told him a piece of luggage fell out of the overhead bin.
We landed at JFK around 10 pm EST, waited for Condrey to grab his Hello Kitty suitcase he had checked in and found our driver.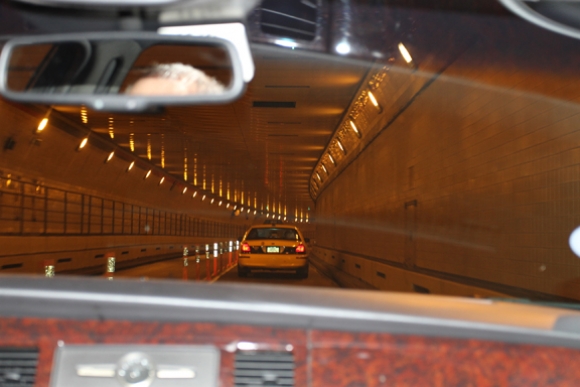 I believe our driver's name was Al, a happy fella with a thick NY accent. After about 15 minutes of driving, Al hated Condrey too. 10 more minutes and Al pulled the cab over and kicked Condrey out. Reluctantly I went too because I knew Condrey would get mugged. Luckily we were only blocks from our hotel.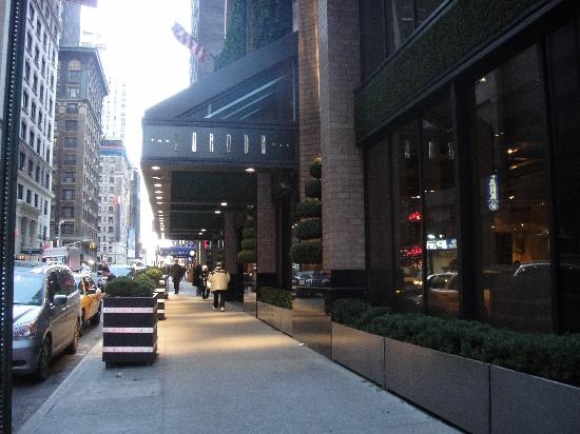 The next day Monday we headed to NBC in the heart of the city by Radio City Music Hall, Rockefeller Center and 30 Rock.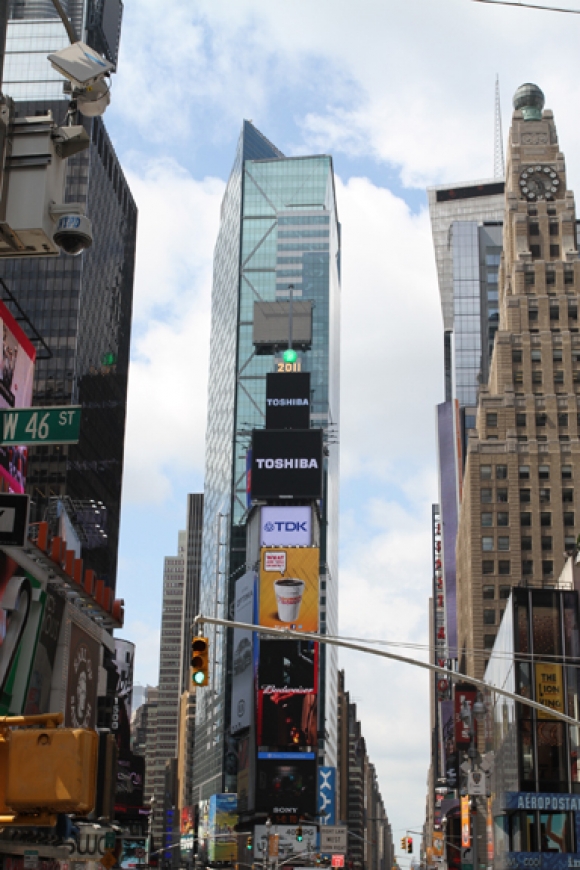 We went around 2:30 for rehearsals, signed some papers and got ourselves acquainted with the studio. Our great crew of Mike Mejia and Josh Selinger had been there since the morning setting up the equipment and playing the build since we were playing live. We were shown a tiny room that said "Modern Warfare 3 The Jimmy Fallon Show" on the door.
Crazy little room, maybe 7 foot by 7 foot, with cereal boxes on the wall and little toys and trinkets glued to the walls, light switches, whatever and a very ornate paint job. It was so weird that it was cool. This was our own dressing room. There were three blue guest bags for us with a signed thank you note from Jimmy, a mug and tee shirt.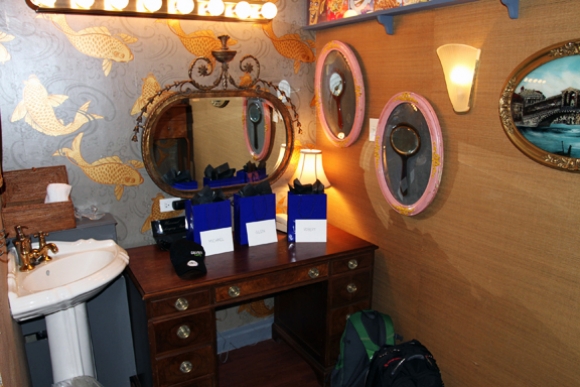 Down the hall was the "Green Room". This is where we really hung out. It was supplied with food and drinks and they even did a special delivery to Starbucks for us. They were fantastic hosts and everyone we met had a smile on their face.
Eric Hirshberg, Robert Bowling, and I rehearsed a few times. We observed where we would stand, where the monitors were and how the 6 or 7 minutes would play out. Then Jimmy came out in street clothes to do a final rehearsal. He's a great guy in person just like he is on the show; personable, creative and really funny.
As the time drew closer to the actual taping, the halls started getting louder as they filled with people. The producers were running around, the bands were playing and the talent started arriving. Will Smith was there with his wife who was a guest as well. He drew a crowd and Eric had a conversation with him.
Just before we went onstage we had to go to the makeup room. They put some on Condrey, even though he wasn't on air, because he requested it. He was in there for about 20 minutes. He came out looking like a bean pole with a plastic Barbie head glued on.
We all waited in the green room. There was John Rafacz, our senior PR guy who along with Josh set everything up and did a wonderful job with Mike Mejia, Robert, myself, Eric….. and Barbie.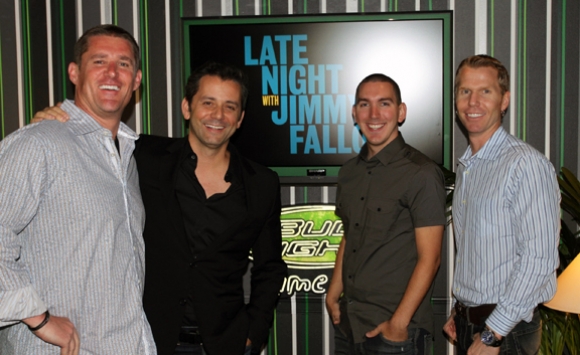 Eric practiced and fine-tuned his lines, but he's pretty much a natural at it as well as passionate about what he's saying so he was just basically doing it for timing.
Time is very precious live so every word needs to be right. We watched live in the Green Room the show and saw all the skits and the guests. It was surreal and very exciting. Nobody was even nervous.
Simon Pegg then went on and we knew we were next. Robert, Eric, and I walked onto the stage. I could hear Condrey in the Green Room crying because he wasn't on the show. We walked out during a commercial, took our places and got a little powder to stop the shining on our faces.
Cameras were all around, the band was playing and the crowd was cheering. Walking onstage was such a cool and memorable moment. I'll never forget it. Jimmy was great and made us feel right at home. Our bit went just as rehearsed. The time went in a flash without a hitch. Immediately after our bit we quickly got a group picture with Simon and Jimmy. And before we knew it our time was up and we walked off stage.
We did a quick little interview for the show's blog just as the show was ending. Backstage after the show was a flurry of people running around, the bands carrying their instruments. I felt bad for Condrey because nobody, not even the security guard, would sign his tee shirt.
We left the building feeling great. We'd had our few minutes of fame on national TV, met some great people and showed MW3 which we're so proud of. And to top it all off, Jimmy loved playing it!
I love being in the game industry.
-Glen Schofield
Highlights of the show's full episode can be found at http://www.latenightwithjimmyfallon.com
Visit our Facebook page to see more pictures! http://on.fb.me/SHGfacebook
Written by Glen Schofield
Categories People, Modern Warfare 3
05/23/2011
It's official! Sledgehammer Games is working on Call of Duty: Modern Warfare 3 with Infinity Ward! Check out the reveal trailer!
Michael Condrey, Sledgehammer Games Co-Founder says, "This is an extremely exciting time for everyone here at the studio. We built a AAA development team and a state of the art studio, partnered with one of the industry's most critically acclaimed developers, and are now co-developing on the most successful action franchise in the history of video games. We couldn't have hoped for a better start as one of Activision's newest independent development studios."
Follow us on Twitter: http://twitter.com/shgames
Written by Guy Beahm
Categories Modern Warfare 3