10/10/2011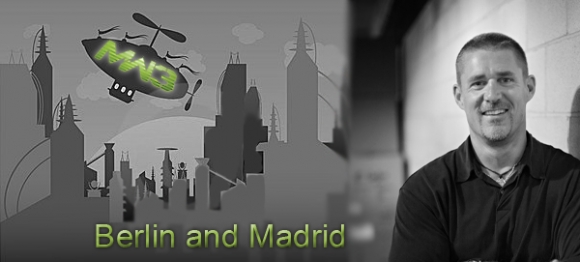 Day 15: We landed in Berlin around 3:00pm but there was a rollerblading marathon going on so getting to our hotel started off bad. Our driver was a true daredevil and hopped a curb and took some sidewalks to get us closer. But the hotel was in the middle of the marathon so we walked with our luggage the last half mile.
The hotel was a bank headquarters from the 40's. It was massive inside. Thankfully the rooms were massive. Since we were spending 4-5 days here it was good to have some space with a gym as well. That night we had a true German dinner.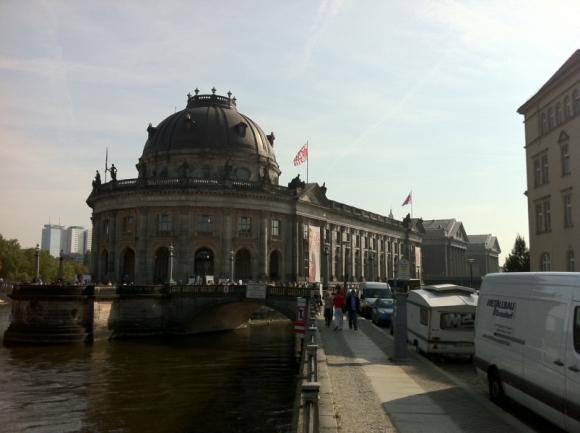 Day 16: The next day we set up, rested and then walked around for a bit. It was also the day in which thousands jammed the streets for a local marathon so we were virtually surrounded by people. Supposedly this is as big as the NY Marathon with people arriving from all over the world. Very cool!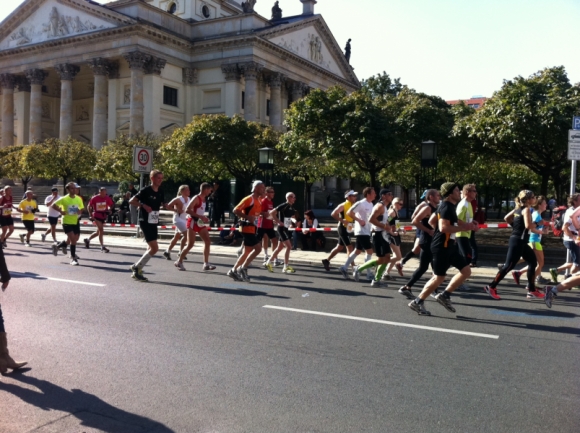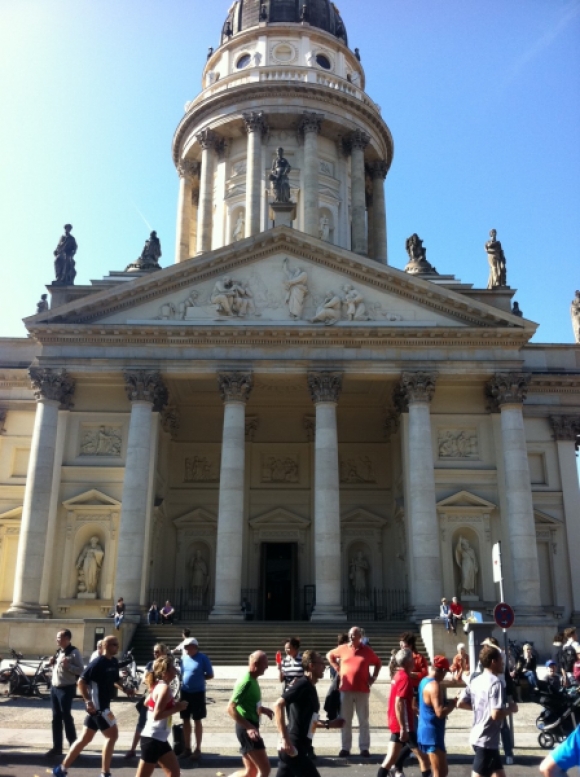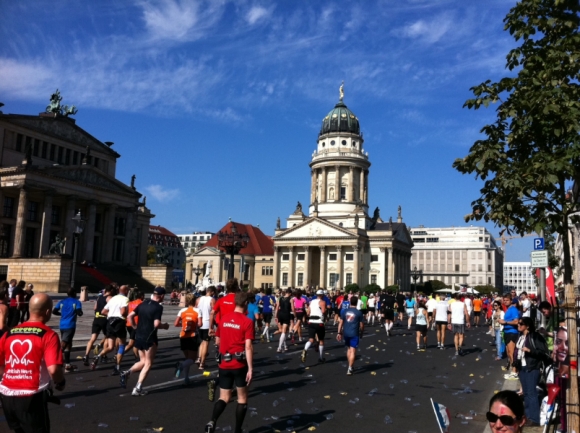 We headed to the Brandenburg Gate, a familiar landmark forever linked to the Cold War. It was a fitting end for the Marathon's finish line. After a long day we got some rest for the upcoming days of interviews and demos. That evening we had a special dinner with three guys from the MW3 Series Community with over 28,000 members. We had a good time!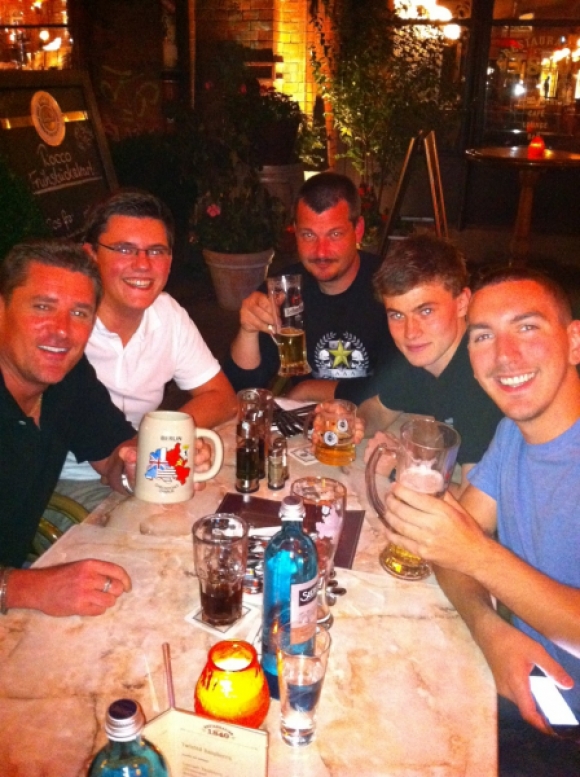 Day 17: The event was held at our hotel so no cabs to the event which was a relief…Nice setup by the German team. Robert and I started at 9:00am giving demo setups and game overviews. After the demos (I think we did 6 or 7) we then prepared for our 1 on 1 interviews. We probably averaged three to four each so there was a lot of interviewing going on.
Day 18: The next day was more of the same in the morning. Early afternoon, we jumped in a cab and headed to a big Radio Station. The venue was quite fun with an open atmosphere and two excellent hosts. This will be broadcasted soon which we'll link for you guys.
Then it was time to pack up and hit the road once again. Josh and I did this trip alone as Shannon and Robert split to Helsinki. We had a 3 ½ hour flight to Madrid. We landed around 11or so… What an amazing airport!
Day 19-20: Madrid is spectacular! I've been there before but never stayed long enough to see much of it. First couple of days was setup and getting ready for Gamefest which was in its second year. We had a very nice booth with a theater to demo and then a private room upstairs to interview. Mike Mejea flew in to do the demoing. He worked his butt off the whole time. The event itself was really nice and I can see it growing into a major European event. Our booth always had long lines, sometimes up to four hours which we then worked to speed up. It's a hard balance because we need to give everyone enough time to enjoy the game. Great day. At the end, we were beat.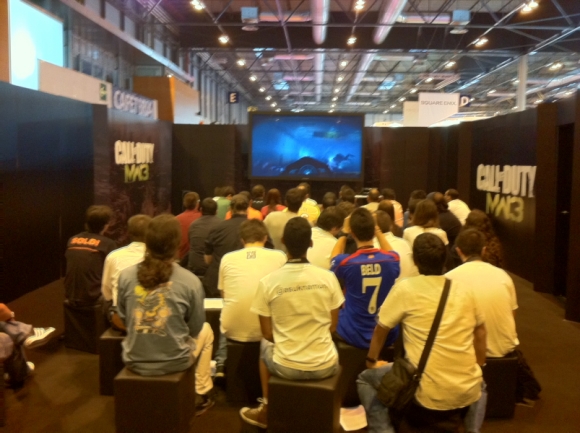 Day 21: Next day we were up early and doing the same. Again, the morning consisted of non-stop demos and interviews. Monica and her crew did a fantastic job getting all the press. In the afternoon we set a place for me to sign posters. I didn't think we'd have that many interested. After an hour and over 700 posters signed there was still a huge line waiting! They stopped me so I could get a break. After that we tried checking out the show but so many people stopped me for autographs we just left. That was cool!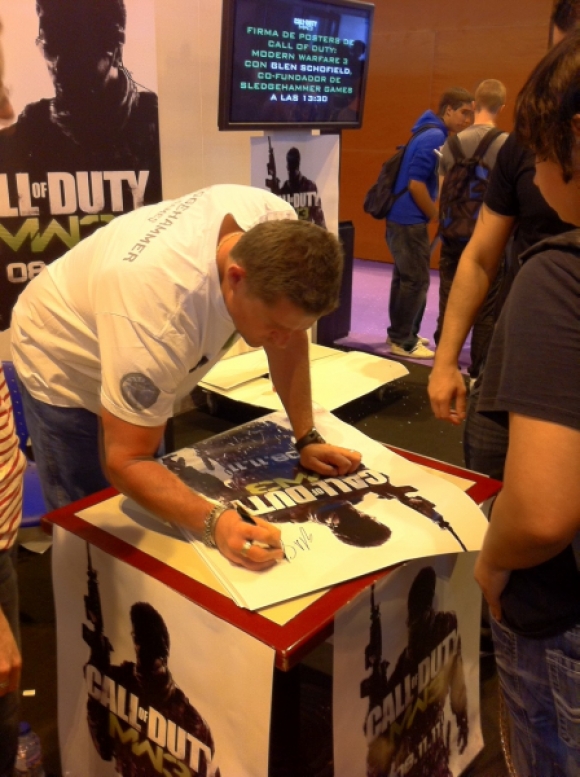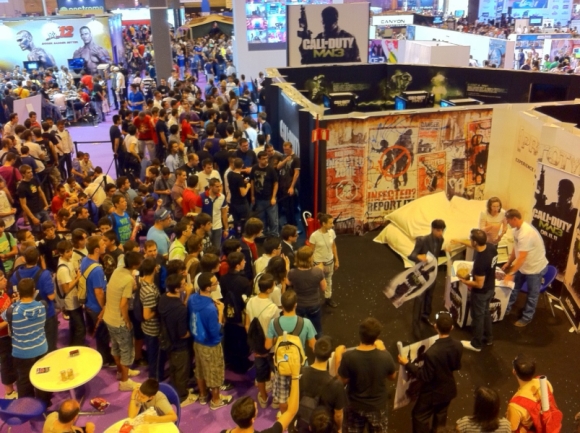 Day 22: Another day full of interviews, poster signers etc. but in the afternoon we had an awards show. We took the first big prize "Best Action" game. I gave a tiny acceptance speech. We won a few more as well. Everything about Madrid was just great.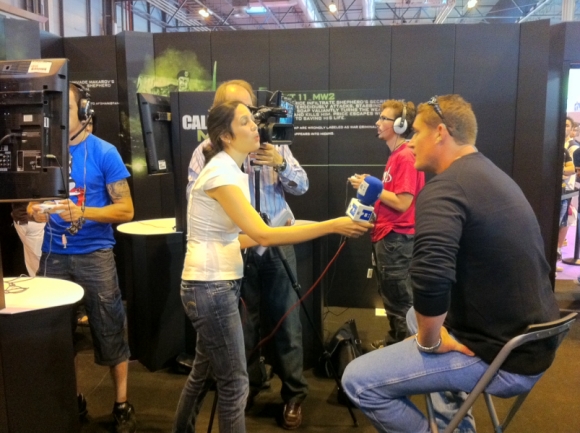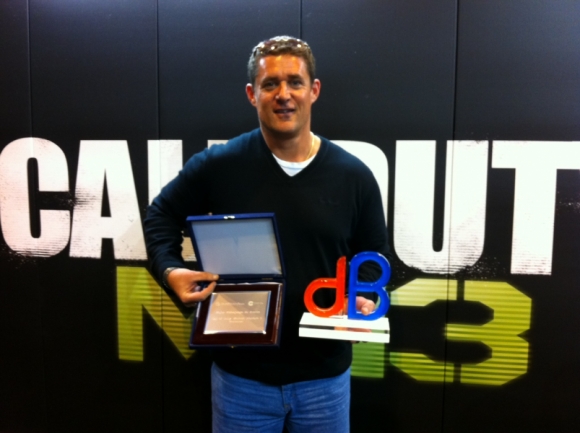 We wrapped up the day with nice dinner with Mike and Josh. Next I got on a plane for Stockholm. Never been there!
Looking forward to it.
Follow Glen on Twitter for daily MW3 World Tour updates.
Look back at Glen's previous destination, Paris and Milan: http://sledgehammergames.com/blog/view/74
Written by Glen Schofield
Categories Culture, Modern Warfare 3
10/06/2011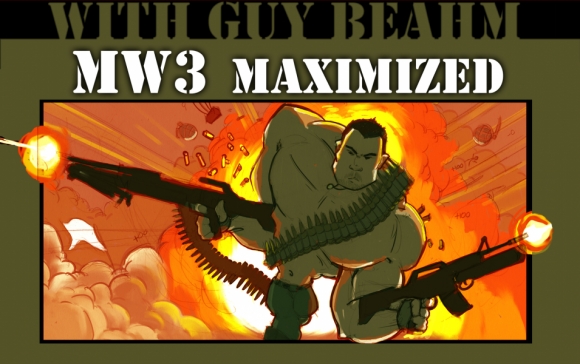 Welcome to MW3 Maximized with Guy Beahm!
Every Thursday leading up to the launch of Call of Duty: Modern Warfare 3, I'll give you a inside look at a new multiplayer experience or feature straight from the game. I would love to hear your feedback so feel free to drop me a note on Twitter.
With that said, shall we get this started? Let's introduce the Bouncing Betty!
Shall The Bouncing Betty can be chosen as part of your 'lethal' equipment. It's a frag device that, once it's triggered, launches into the air and explodes lethal shrapnel in all directions. Unlike the directional claymore, this can save you valuable time when planting. This new lethal device is great for quickly covering flanking routes when holding a capture point.
Just like the C4 and Claymore, the Bouncing Betty can be taken out with a few shots or a grenade, however, if you hear the activating sound of it launching into the air, immediately go prone! If timed correctly, the expert player will avoid the fatal impact.
Here's an example of good practical use for the Bouncing Betty. Let's say you are on the second floor of a building. You are in a power position, however, there is a high traffic flanking route leading to your location. If you wanted to temporarily close off that flanking route, rather than having to sacrifice yourself and position to plant a claymore, you can easily just toss a Bouncing Betty down the stairs or out of the window onto the cutoff. This should quickly cover your flank!
Written by Guy Beahm
Categories Modern Warfare 3
09/27/2011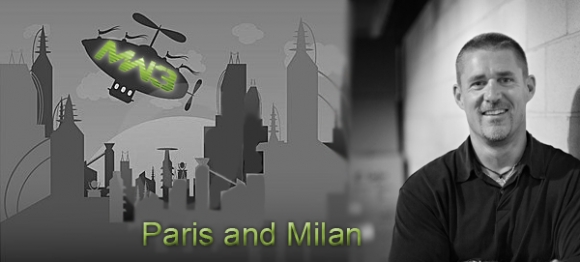 Day 9: In Paris. Woke up and met up with PR and Production including Josh and Shannon as well as Robert Bowling for a walk to the Louvre. We spent a couple hours there… it was amazing! Whether you like art or not (and I do of course), if you're ever in Paris you must go to the Louvre. It's not just a history of art; it's mankind's history and legacy.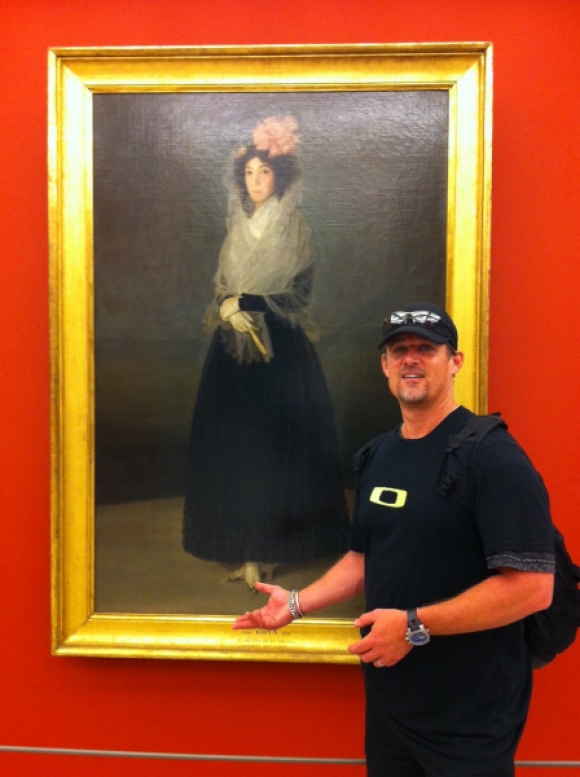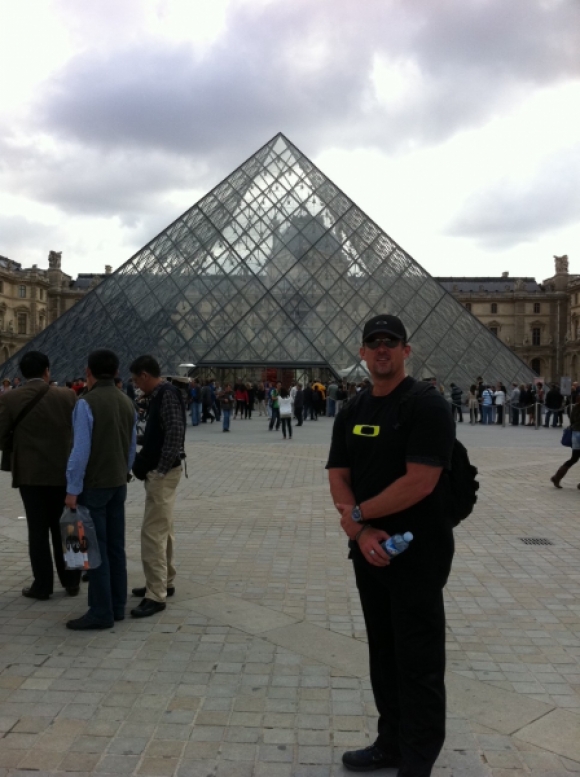 Headed over to the venue before dinner and checked it for audio and visuals. We then got on stage for some rehearsals. Setting up takes a long time, sometimes days, to make sure everything is right, including the script. We go over it dozens of times to make sure everything is covered but to also put it into our own words. After rehearsals, I went back to the hotel and practiced even more. I also worked on two pen and inks late into the night. Good day!
Day 10: Woke up early and headed to the venue as our first presentation was at 9am. We did three presentations and many interviews during the day. The press asked some very interesting questions. It was a lot of fun to answer these about 'developing the game' as opposed to checklists like how many levels, weapons, enemies, maps, etc… You don't need a developer for that. But when they want to get inside your head about game development, that's what I like!
I finished the evening watching the Yankees game while I worked on another pen and ink. Off to Milan tomorrow.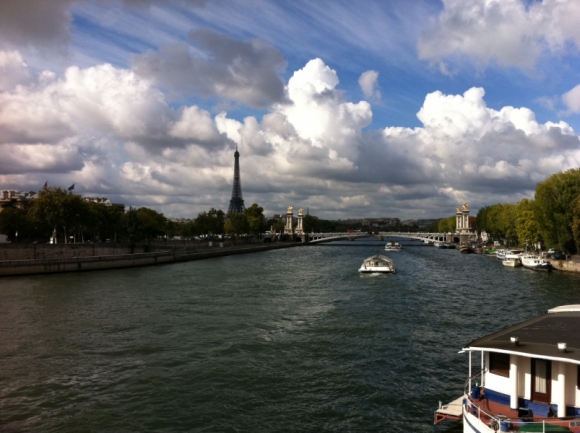 Day 11: I got up at 5:30 am to grab a van to the airport at 6. On the way to the airport, we were hit pretty hard from behind by another vehicle. Everyone was okay but the taxi van got pretty smashed. Obviously we missed our plane which was quite a pain in the neck.
We arrived in Milan mid-afternoon; everyone's feeling the effects from the long days, the non-stop working, and jet lag.
I had to get a haircut and shave for the upcoming shows- feeling kind of haggard. The concierge gave me the name of a place. I somehow got there… but to a locked door. I knocked and knocked and finally, a 70 or so year old barber answered kind of grumpy. I used my translate app and explained what I needed. Using only scissors this guy was a freaking magician- fastest cutting I've ever seen. He used a straight edge razor and shaving cream he mixed up himself. Then hot towels on the face. Gels, creams; holy cow it was amazing. For a brief moment in time I felt like a male model. Now I realized all the fuss about Italian barbers. I dare you to try it once!
I also bought some salamis for the team back home. Then it took almost an hour to catch a cab. In between I visited the cathedral, which is absolutely spectacular.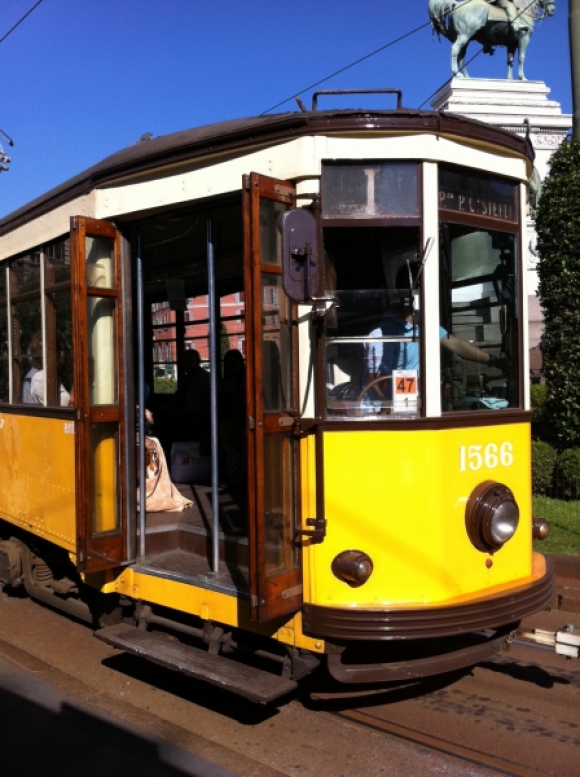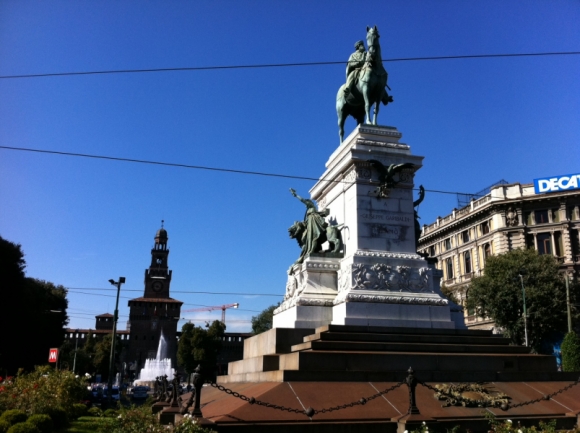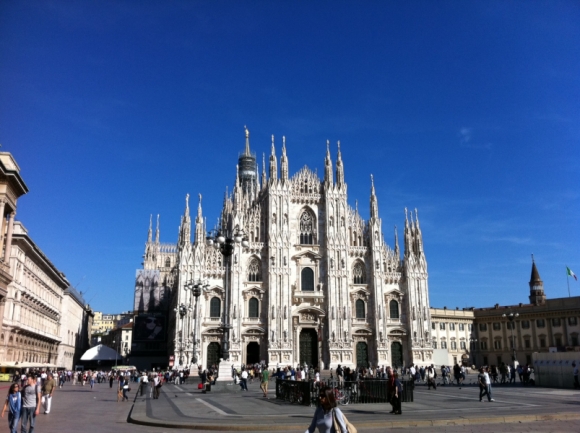 Day 12: Event day in Italy. Woke up early to work out and be ready and awake for a long day of interviews. Each group was brought into the viewing room where Robert and I did a shorter version of our presentation. Once we finished explaining the game, they split off to play spec ops while others interviewed us- separately or together. I think we had nine groups so it went from 10 am until 8:30 or 9pm. It was a long but excellent day. Well attended and very well planned by Francesca and the Italian PR crew. Always new food and drinks for the guests. Very open atmosphere- nice job!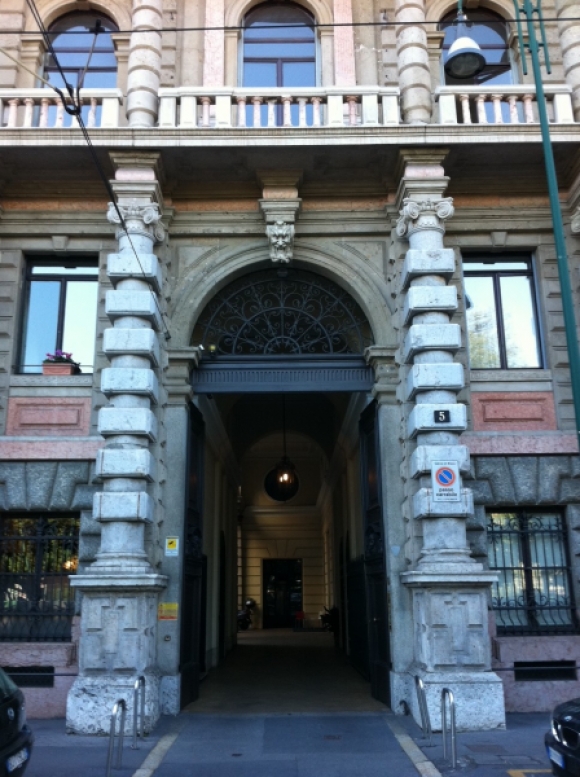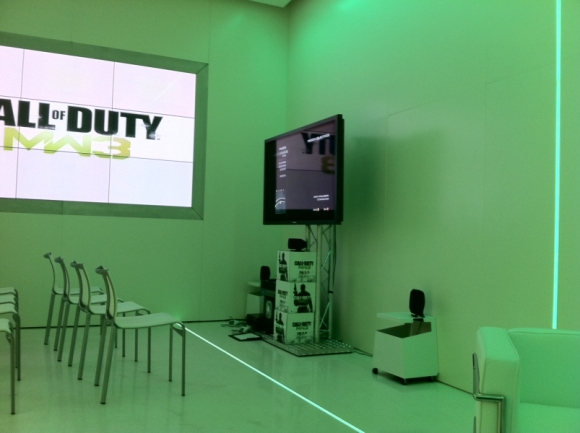 At lunch we had a 45 minute break and right across the street was a castle built in 1388. It was amazing, with a mote and everything us Americans know a castle to have.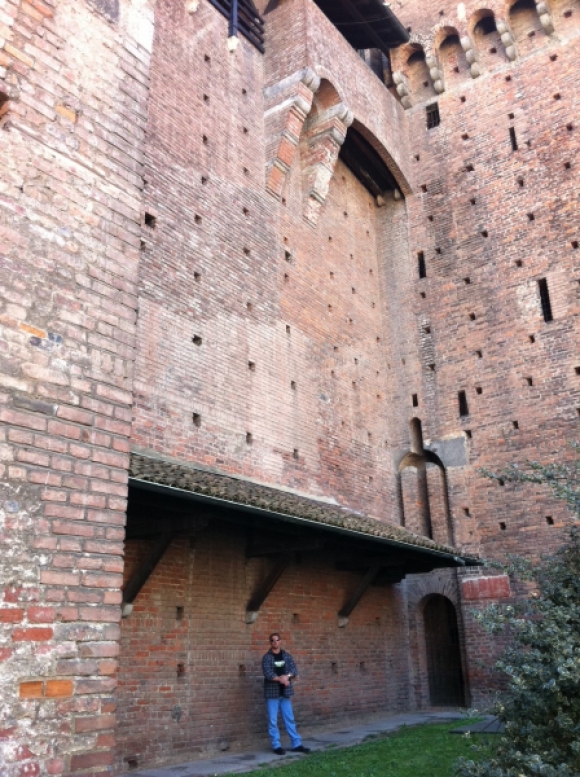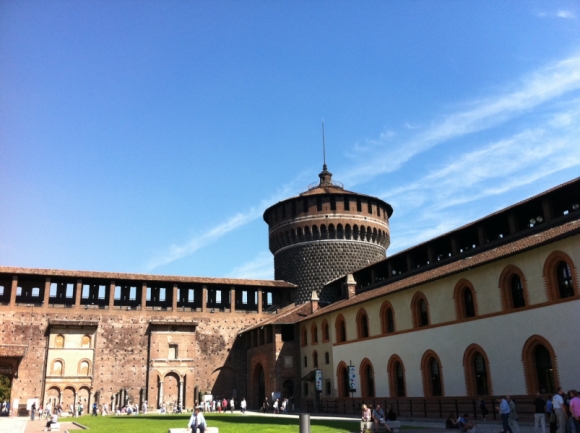 After the show was over we cleaned up and went out to dinner at 10pm! The Italian team took us to a great place only locals would know. It was jam packed and fantastic! There were so many flavors in one dish and the pasta was fresh. What a way to end the day. We toasted to a great show and got back around 1:30am.
Day 13: A bit of a day off thankfully. It served to be a good opportunity to catch up on the jet lag. Slept in, hit the gym and caught up on emails and work stuff.
Around 2:00pm, we headed out to the center of Milan for some food and a bit of tourism. Really took a look at the Duomo, the Cathedral of Milan which is spectacular. Everything was perfectly clean; perhaps they are getting ready for the World's Fair in 2015.
We then got some Panzotti, which could be meat or cheese wrapped in pizza dough and lightly fried- freaking amazing. It was nice to have locals help with recommendations.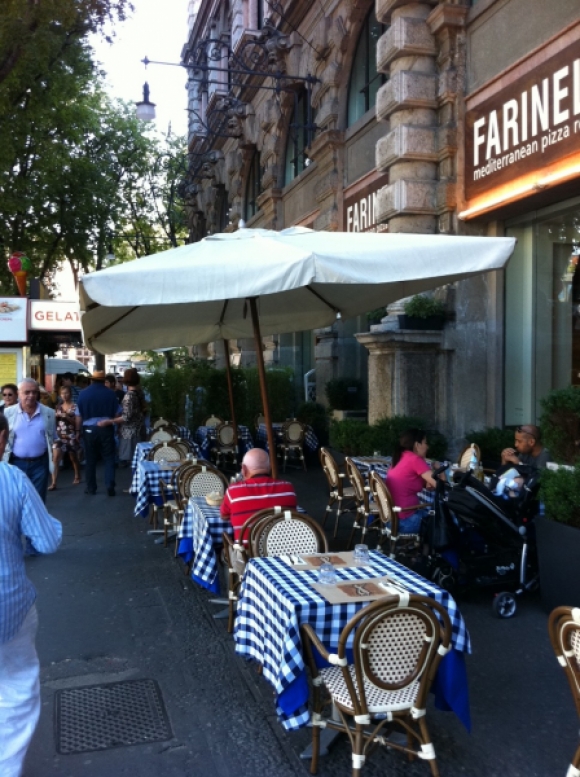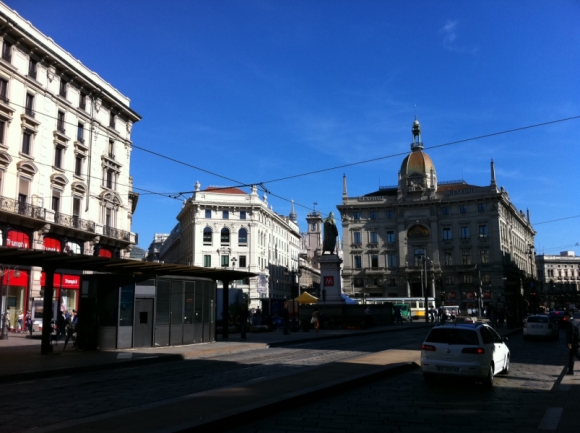 I then headed back to start the hated job of repacking for the flight to Berlin tomorrow. Afterwards, I did another pen and ink illustration. This is my sixth or seventh for the trip.
Overall, Week 2 was another success. Good events, lots of interviews and I met a lot of people. There is so much positive energy surrounding the game. People are really excited and there will be dozens of interviews hitting in early October. In between set up, traveling, customs, events, interviews and meetings we did manage, however briefly, to see the Louvre, Eiffel Tower, a car accident first hand, a 14th century castle, the Milan Cathedral and some great food.
Follow Glen on Twitter for daily MW3 World Tour updates.
Look back at Glen's previous destination, Japan: http://www.sledgehammergames.com/blog/view/71
Written by Glen Schofield
Categories Modern Warfare 3
09/22/2011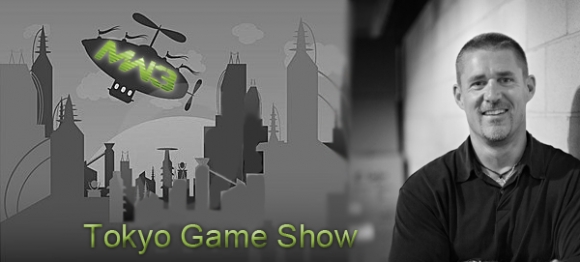 From Glen's Diaries:
Day 1: We landed in Norito airport after about an 11 hour flight. It took almost two hours from the airport to the Hyatt in Shinjuku Tokyo. Wow, what a wonderful hotel and view! We then walked around Shinjuku that evening to get my bearings back.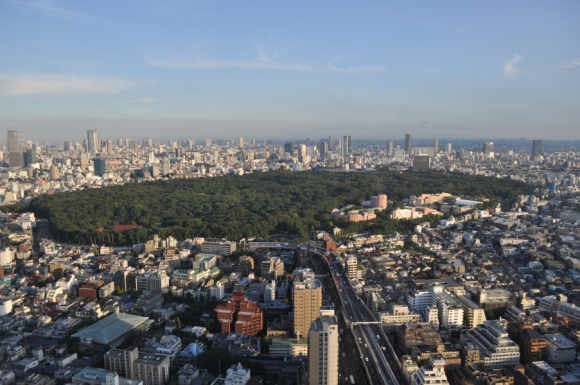 Day 2: I met up with Robert Taylor from ACTIVISION PR. We discussed the upcoming events and went over plans and talking points. We then went on a tour looking for game stores and arcades traveling from Shinjuku to Harajuku and back. Saw a bunch of CoD displays which had MW3 as well as Black Ops. But as you know, Japanese fighting games are still huge and fill most of the spaces.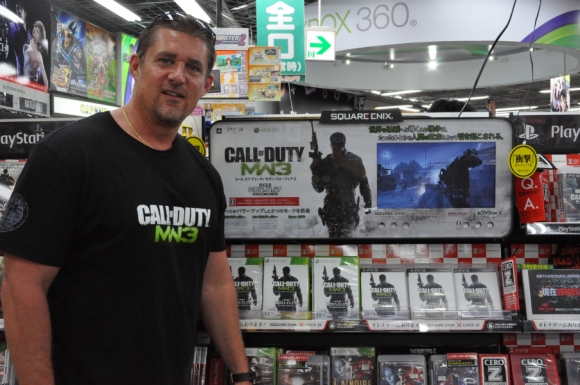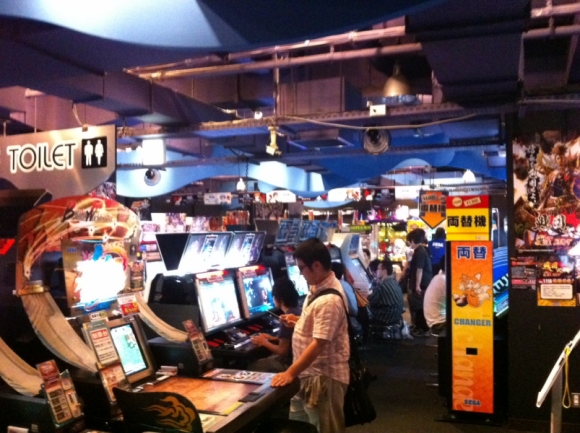 Day 3: Now we're starting to see more people around who look like Developers. We're going to be extremely busy with days of interviews then a bigger production on stage Saturday night. This one will be different since I'll have a translator and an emcee asking questions. Robert Taylor and I decided it was a good idea to see other stores in the 90+ heat. It was ridiculously hot! We took a couple subways to help but still a lot of walking.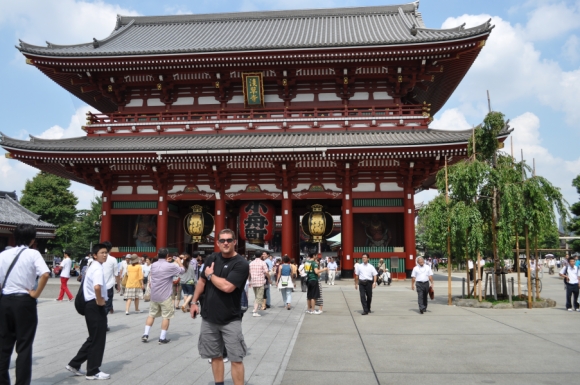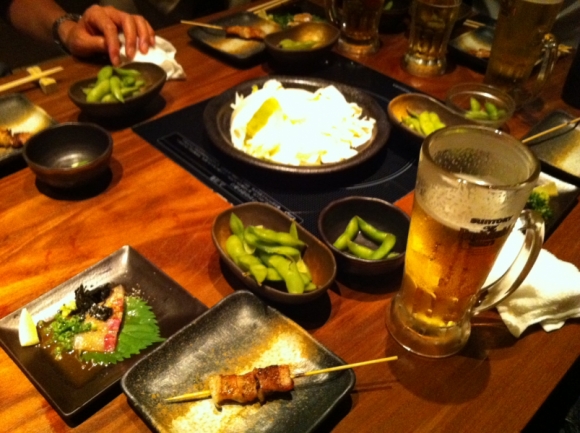 We ran into P. Butcher who runs ATVI publishing in Asia. He took us out to Shabu Shabu for dinner. There were some funky appetizers first, then the meat… It was excellent! Butcher laid out the final plans for the week ahead. First day of the official show starts tomorrow!
Day 4: TGS opened so we went first thing in the morning. The show is smaller than E3 by at least half. Many mobile games but the big Japanese game companies still dominated. Capcom, Square Enix, Sega, Konami, etc. all had a large presence as did Sony. Even Microsoft had a pretty big booth. MW3 was at the Square Enix booth. At around four we went to the Manhattan (yes) Hotel to set up for tomorrow's interview sessions. We were there until after 9pm then had an hour ride back. So dinner was around 10:30-11. Good long day!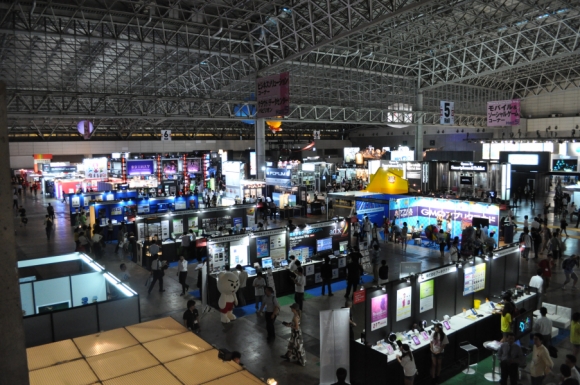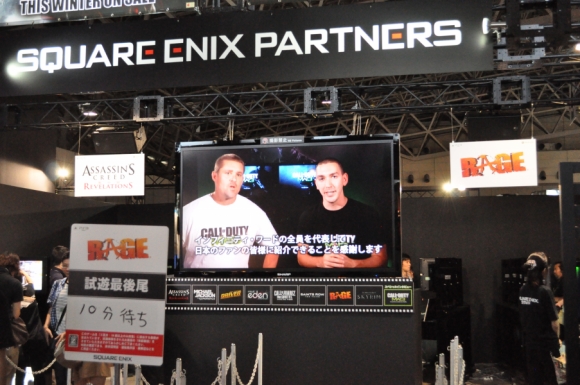 Day 5: We had interviews all day. They went quite well but it is a challenge getting used to using an interpreter. We got there early to make sure everything was setup correctly and that it looked good, which it did. We finished interviews around 6 or so and immediately did a meeting with Square Enix regarding tomorrow's events including the big event at 7:30 pm where I'll be on stage. Following that, we had a much needed dinner with the ACTIVISION guys and while eating and talking, I wrote my speech. I stayed up until 1 am writing and practicing.
Day 6: Didn't sleep much. Woke up with a headache! Square Enix picked us up in a bus this morning and we went to a huge electronics and gaming store. They wanted to show us what they're doing at retail. The store was unbelievable… it was sensory overload. Then we headed over to our venue to rehearse and get ready for the evening's festivities.
The event went off great! It was streamed live to thousands of people and was attended by more than 100. All around, it was very good.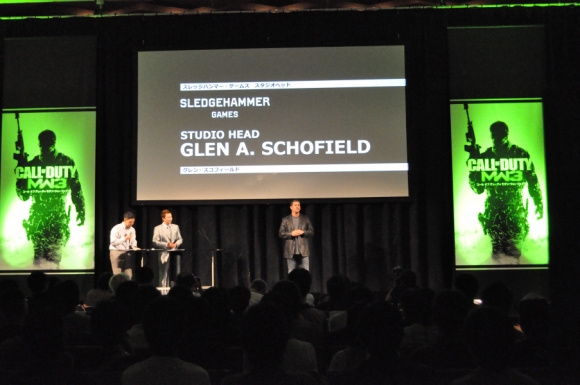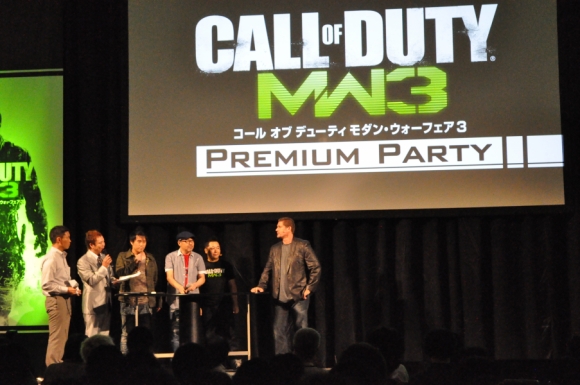 We then went out to a real Japanese no shoes meal on Square Enix. At about 11pm, I had to leave because I have an early flight in the morning.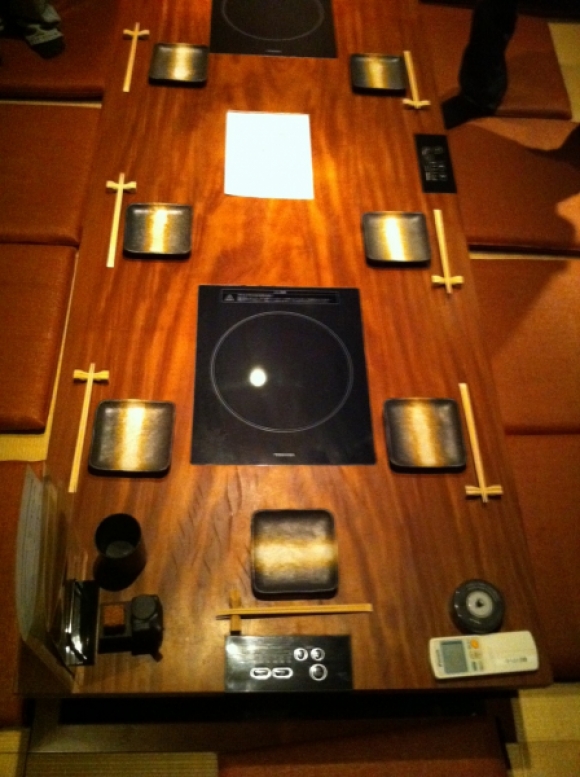 All in all, Tokyo was an amazing experience and MW3 kicked butt! Thanks for making this trip a memorable one! Time to get some sleep… off to Paris tomorrow!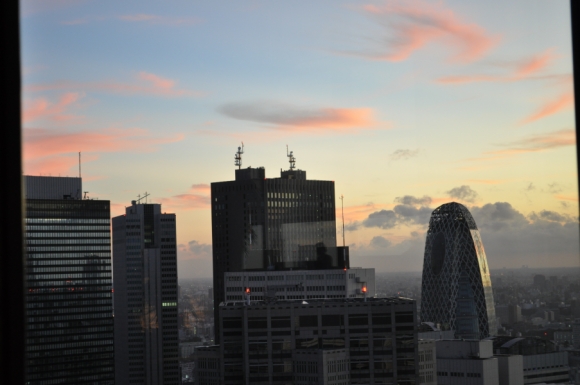 Follow Glen on Twitter for daily MW3 World Tour updates.
Check out more pictures from TGS on our Facebook Page
Written by Glen Schofield
Categories Modern Warfare 3
09/19/2011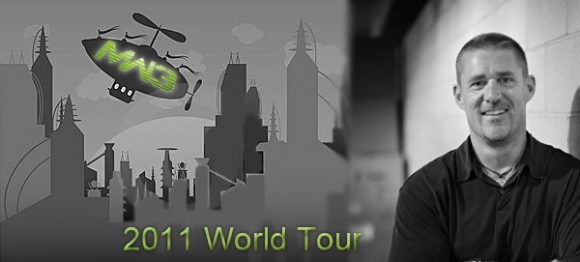 The Official MW3 World Tour:
From Sept 9th until at least October 8th (could be longer) I will be visiting between 7 and 10 cities throughout Europe and Japan. I'm working with the Activision PR teams from those countries as well as some colleagues from the US and at some point in Europe I hook up with Robert Bowling for some larger venues.
Developers do these tours in order to show our support for the fans all over the world. We also want to talk to the press who may not always be able to fly to the big shows and get hands on with the game or talk directly to a developer. There are also a lot of country game shows or Gamefests going on now and we'll try and see as many as possible.
It's nice to go on these trips but they certainly aren't vacations. You're constantly flying, driving, interviewing, demoing, going thru customs, living out of a suitcase and away from your family. On the other hand I love meeting the press and fans from all over the world and making new friends. And it's really cool to see what other countries are doing to promote the game. Developers can also give the press a more intimate view of what it was like creating the game. Not just "how many levels" but "how'd you come up with the level". There will be stage shows, interviews, TV, tradeshows, meetings, blogs, podcasts, etc.
Over the course of the next month my travels take me to Japan (TGS), Paris, Madrid, Milan, London, Berlin and Stockholm and probably a couple others may be thrown in. It's a whirlwind tour for MW3 and should be really exciting and interesting. Come back often for updates and follow me on Twitter for a daily picture and brief update of the tour!
- Glen Schofield
Written by Glen Schofield
Categories People, Modern Warfare 3