11/12/2011

"Yo, Condrey, certain things aren't working the way I want. I need an answer! What is wrong with you!!!!"
via Twittersphere
Twittersphere,
I can't put in words how much effort, passion, and dedication has been put into MW3 by all the devs involved. The commitment from everyone who contributed to this project to make it absolutely the best possible for fans is unparalled. MW3 is a labor of love by developers who are also passionate gamers, and every decision made along the way was for a singular goal - to make it the absolute best game possible. That holds true across Sledgehammer Games, IW, Beachhead, and all the studios involved in Call of Duty.
That commitment hasnt changed just because the game has launched. Just the opposite, in fact. The community dialog has been great, and everyone is working as hard as ever to address opportunities for improvement across the game and services. The community is massive, 35M+ by some estimates, and consequently by it's sheer scale it impossible to respond to every tweet and email. Just know that every single one gets read, and taken to heart. Even the ones that call me terrible, terrible names, I read... but then again, I have to read the ones from Schofield too.
In the mean time, please keep the feedback coming. Constructive criticism is always the most effective. Also, for issues there is a lot of MW3 and Elite information, as well as the contact information for the Activision Customer Service group, here:
You can also follow me on Twitter:
http://twitter.com/michaelcondrey
Written by Michael Condrey
Categories Question of the Week
11/05/2011

Make sure to follow Michael Condrey on Twitter: http://twitter.com/michaelcondrey
This week's question was asked via Twitter:
"DarkKiller 123 - You don't realize how much the world wants MW3 !!! So hyped up!!!!"
Thanks Dark!
That's not really a question, but I chose it as the QofW because I really wanted to share how everyone
@SHGames
is feeling right now. Sledgehammer Games is made up of very senior dev talent who have been making games for a long time, but as you know, this is our first game together under this studio brand. Nothing in my, or any of our careers, comes close to the excitement of this launch. To be able to share #MW3 with you, and all fans, at 12:01am on the 8th of November is beyond words.
It's an incredible feeling to be on the verge of launch, and we are eagerly awaiting midnight with the tens of millions of amazing Call of Duty fans around the world. It's humbling, really. The community is amazing, and the outpouring of support has really been heartwarming. The game is great, and we can't wait for everyone to get their hands on it. Developers from Sledgehammer Games and Infinity Ward will be heading out across the globe to celebrate launch with the community. I'll be in Paris and others from the teams will be in places like Berlin, Amsterdam, London, Madrid, Milan, San Francisco, NY, Mexico City, LA, Mexico City, Vancouver, Toronto, Sao Paulo, Chicago...
We can't get everywhere, but whether in person, online, or via the Call of Duty Official Launch Live Stream, know that it is fans like you, and your support, that make this possible. So thank you, Dark, and everyone in the Call of Duty community! I look forward to seeing you online at 12:02am!
Written by Michael Condrey
Categories Question of the Week
10/28/2011

Follow Michael Condrey on Twitter: http://twitter.com/michaelcondrey
This week, Michael answers two of your questions:
"So I get a Prestige token for every prestige in all of the previous Call of Duty games?"
Devin - North Carolina

No, not quite. You get one token for every game you've prestiged in. So let's say you prestiged in MW2 and Black Ops, you get 2 tokens for MW3. However, you only get two tokens for those games. It doesn't matter if you prestiged multiple times. 10 Prestiges in MW2 is still only one token, for example.


"You and Glen pick on each other a lot. What gives?"
Chelsea - Eugene, Oregon

We hammer (bad pun, I know) each other pretty hard. Its always in a joking manner though. Making games is difficult. Making great games is extraordinarily hard. The demands on the game team, and running the studio, are extremely challenging. It takes two of us, working extremely hard to make it happen. I appreciate our partnership an incredible amount. Although I will never admit it in public.
Written by Michael Condrey
Categories Question of the Week
10/21/2011

This week's question was asked via Twitter. You can follow Michael Condrey here: http://twitter.com/michaelcondrey
Hello I attended CODXP ... When will attendees get their copy of MW3?
A: Sledgehammer Games and IW poured their hearts into developing the game. We rely on the Activision Publishing organization to handle distribution of the game. They have a major task getting tens of millions of copies out to retailers and fans around the world for launch. They are moving mountains to ensure that attendees who registered their MW3 hardened edition online (the ticket inside the XP CE Box) will receive their Hardened Edition on Day 1, or the day before. Barring any logistically hiccups, which on an operation of this size may unfortunately happen on occasion (my words, not theirs), we'll look forward to seeing you and all of the XP fans online on November 8th!
Written by Michael Condrey
Categories Question of the Week
10/17/2011

Last week was a great week at Sledgehammer Games. There are so many exciting things going on with the run to launch just being a few short weeks away. With that said, I'll have two episodes of my Question of the Week this week. One today and one on Friday.
All questions have been received via my Twitter account so if you haven't already, make sure to follow me here:
http://twitter.com/michaelcondrey
All right, here we go!
@wicket2961 asks: Is the "dolphin dive" in MW3.
No, no it's not.
@Insevin: Favorite part of #MW3 (last week)?
In the game: Swapped over to the Assault Rifle as my MW3 MP primary. Type 95 semi-auto with rapid fire and ACOG thanks to the Two Attachments proficiency. Much different tactics than with the SMGs I've been running lately. Ton o' fun.
In the studio: Keighley's coverage on Spike was a highlight: http://www.gametrailers.com/episode/gametrailers-tv/136?ch=1
I also saw this photo of Glen's interview with Eurogamer and got a lot of joy out making fun of his shirt.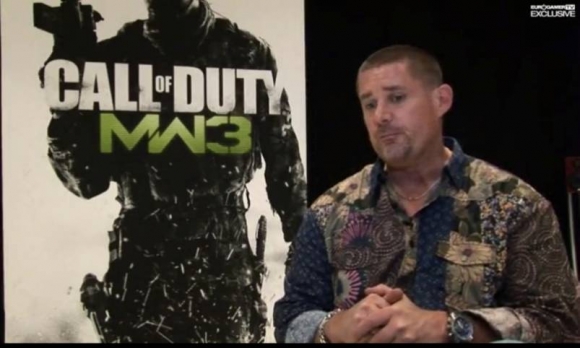 Written by Guy Beahm
Categories Question of the Week