11/07/2011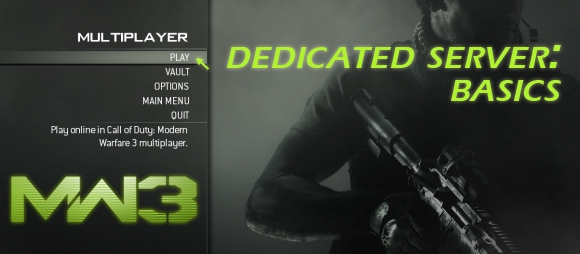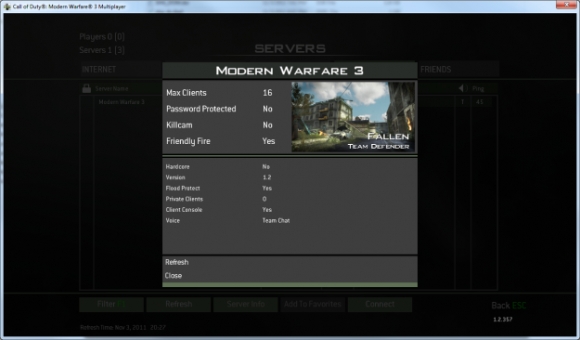 This document provides the basic steps to setup, host, and join a dedicated server in Call of Duty: Modern Warfare 3!
Table of Contents
Introduction
Recipes
Dedicated Server Playlist
Going Live!
Joining a Dedicated Server
Introduction
Welcome to Call of Duty: Modern Warfare 3! This is a quick look at how to setup, host, and join a dedicated server! You will learn about creating a recipe, a playlist, installing them on the server, and pushing the server live. SHG will be releasing part 2 of our guide soon detailing the more "Advanced" features of Dedicated Server including RCON, Voting, and more!
The "basic" steps of running a dedicated server are:
Create a set of recipes
Create a playlist
Start the dedicated server executable
Invoke the playlist on the server
Start the map rotation
Enjoy!
Recipes
1. A recipe is the match rules for a given map. In this section we show you how to create, save, modify, and load recipes. Using the Private Match feature you can easily create recipes to your liking. Additionally you can modify recipes in a text editor if you prefer. We've shipped with several example recipes found here:
<SteamRoot>\steamapps\common\modern warfare 3\admin\*.dsr
Creating a Recipe:
2. Access the recipe via the Private Match Game Setup Screen.
Select: PLAY ->PRIVATE MATCH ->GAME SETUP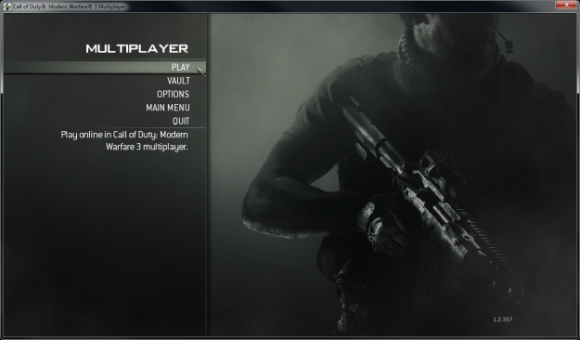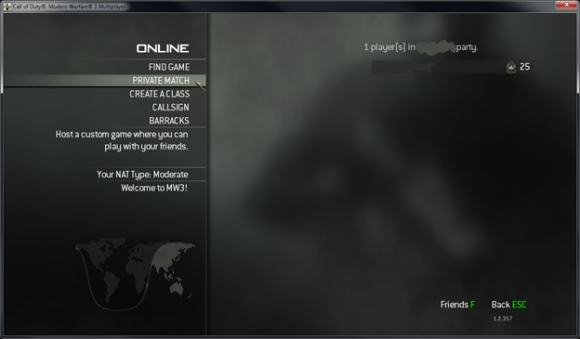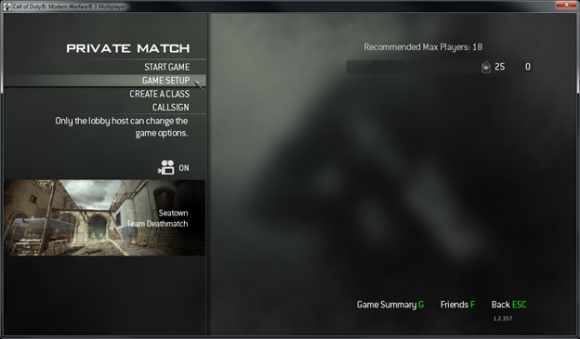 3. Now select what type of mode you want to create a recipe for.
Select: MODE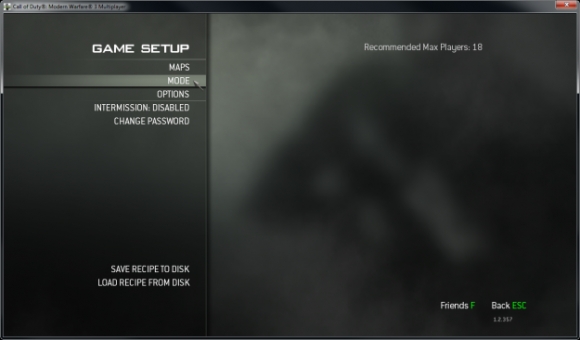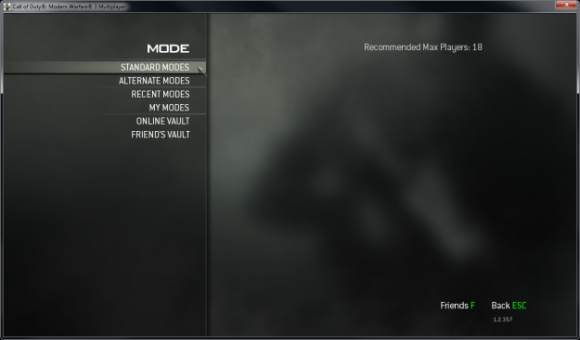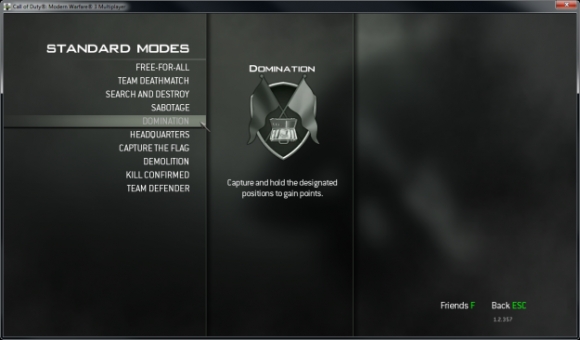 4. Depending on the mode different options to tweak are available. Tweak those options on the Game Setup screen.
Select: OPTIONS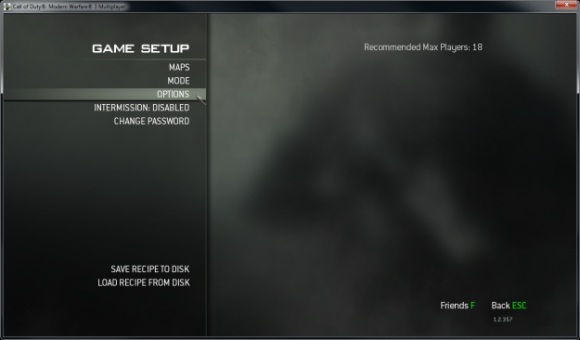 5. Tweak the options to your liking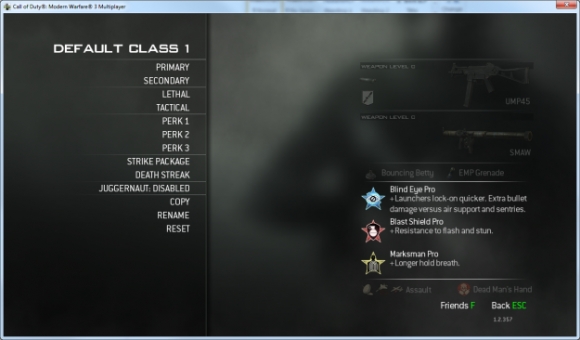 6. Now save it to the Admin folder to be used by the Dedicated Server. The save location is:
a. <SteamRoot>\steamapps\common\modern warfare 3\admin\
Select: SAVE RECIPE TO DISK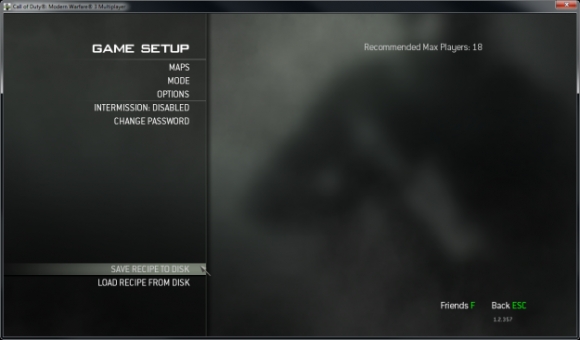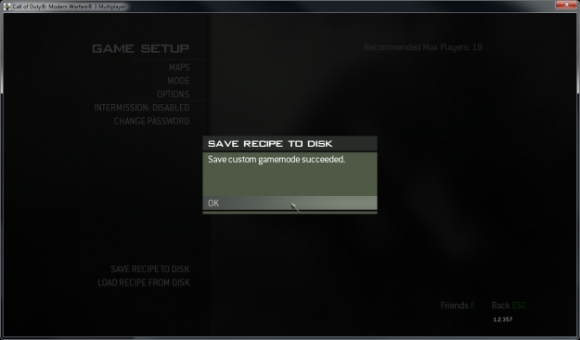 7. Your newly created recipe is now saved to the admin folder in the game root.
a. <SteamRoot>\steamapps\common\modern warfare 3\admin\
b. Most likely <SteamRoot> corresponds to: C:\Program Files (x86)\
c. The .dsr files are text files editable in notepad
8. If you want to modify a previously saved recipe select the Load option from the main menu. And repeat step 4.
Select: LOAD RECIPE TO DISK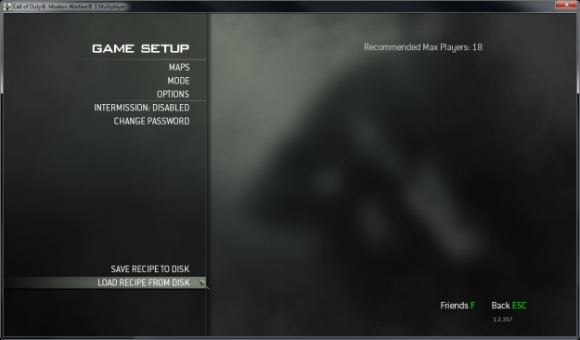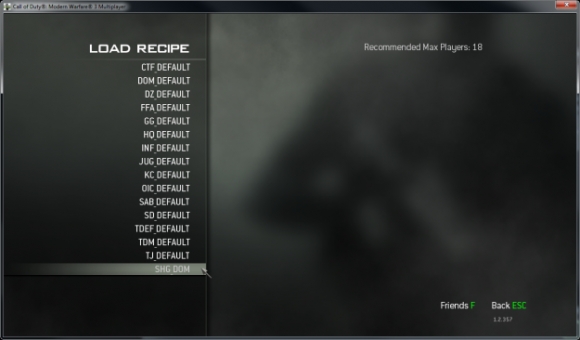 Dedicated Server Playlist
A Dedicated Server Playlist is a text file with a collection of map recipe pairs defining your map rotation. Additionally you determine a weight for each map recipe pair allowing you to increase or decrease the frequency a given pair is rotated to. The Playlist files have the extension .dspl (Dedicated Server Playlist)
A .dspl is a simple text file with the following format:
<level_name>, <recipe_name>, <weight>
<level_name>, <recipe_name>, <weight>
<level_name>, <recipe_name>, <weight>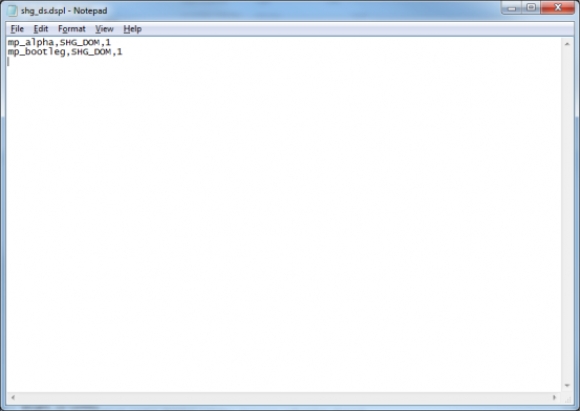 2. You can use a * to denote a random map
3. We shipped with an example .dspl that has more info found
<SteamRoot>\steamapps\common\modern warfare 3\admin\default.dspl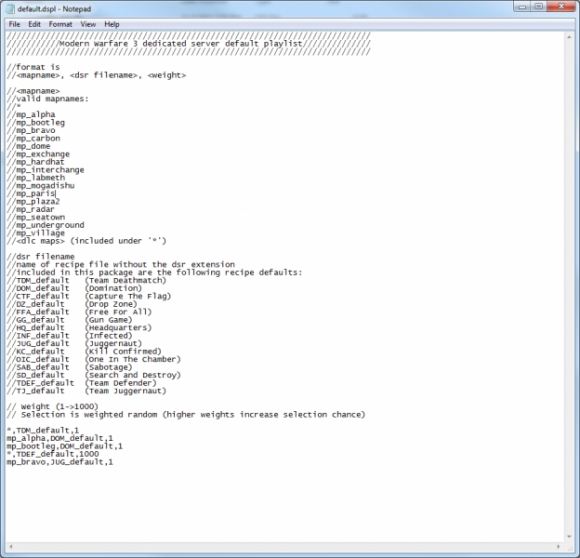 4. While playing, editing the playlist or a recipewill not be reflected untilthe next map rotate.
Now that you've made your recipes and playlist, it's time to install them on the server. Ensure all relevant files are in the admin directory:
<SteamRoot>\steamapps\common\modern warfare 3\admin
1. Launch the dedicated server from the Steam->Tools Menu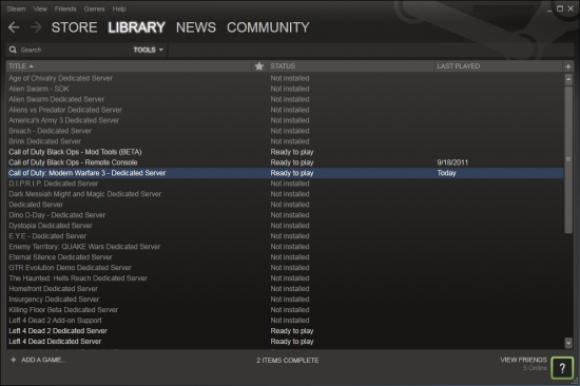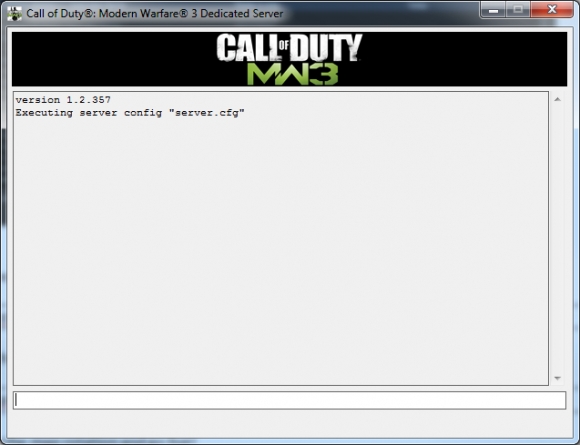 2. Name your dedicated server
Type in console: sv_hostname <myHostName>
3. Set the map rotation on your server.
Type in console: sv_maprotation<myrotation.dspl>
4. Start the map rotation and go live!
Type in console: start_map_rotate
5. To password protect your server.
Type in console: set g_password <myPassword>
For port setting and other information please see
<SteamRoot>\steamapps\common\modern warfare 3\admin\server.cfg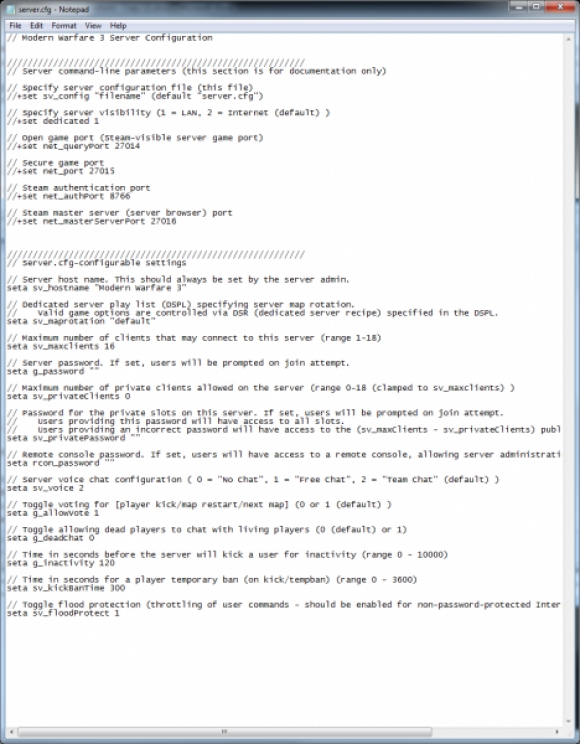 Joining a Dedicated Server
1. To join a dedicated server you need to enable the server browser in the options menu.
Select: OPTIONS -> DEDICATED SERVER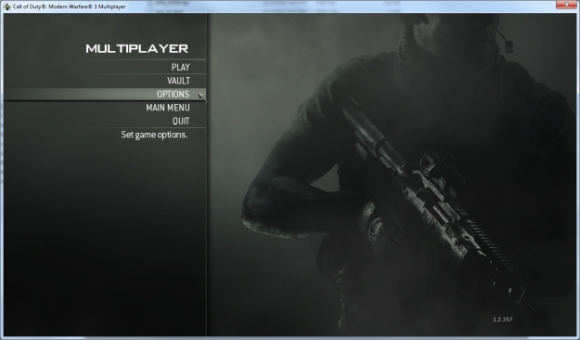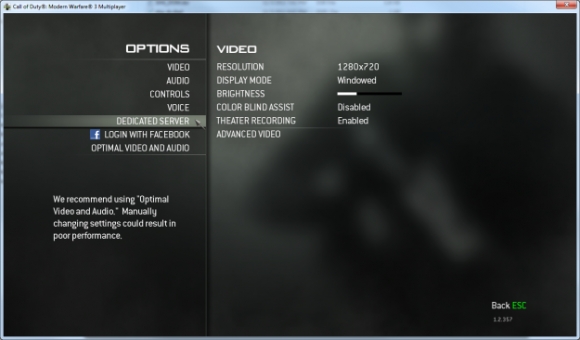 2. Now SERVERS is available in the MULTIPLAYER menu.
Select: SERVERS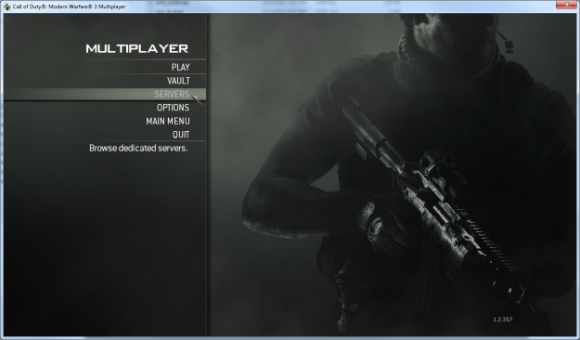 3. Find the server you'd like to join and hit Connect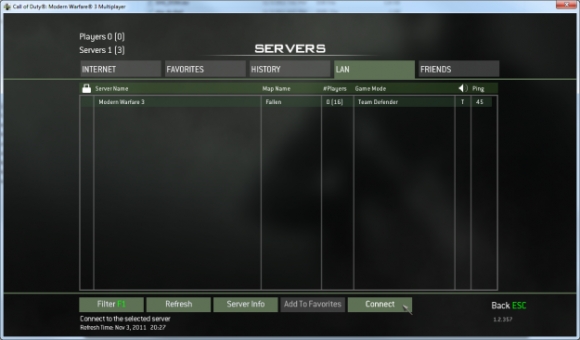 Written by Guy Beahm
Categories Modern Warfare 3
11/06/2011
Written by Sledgehammer Games
Categories Modern Warfare 3
11/05/2011

Make sure to follow Michael Condrey on Twitter: http://twitter.com/michaelcondrey
This week's question was asked via Twitter:
"DarkKiller 123 - You don't realize how much the world wants MW3 !!! So hyped up!!!!"
Thanks Dark!
That's not really a question, but I chose it as the QofW because I really wanted to share how everyone
@SHGames
is feeling right now. Sledgehammer Games is made up of very senior dev talent who have been making games for a long time, but as you know, this is our first game together under this studio brand. Nothing in my, or any of our careers, comes close to the excitement of this launch. To be able to share #MW3 with you, and all fans, at 12:01am on the 8th of November is beyond words.
It's an incredible feeling to be on the verge of launch, and we are eagerly awaiting midnight with the tens of millions of amazing Call of Duty fans around the world. It's humbling, really. The community is amazing, and the outpouring of support has really been heartwarming. The game is great, and we can't wait for everyone to get their hands on it. Developers from Sledgehammer Games and Infinity Ward will be heading out across the globe to celebrate launch with the community. I'll be in Paris and others from the teams will be in places like Berlin, Amsterdam, London, Madrid, Milan, San Francisco, NY, Mexico City, LA, Mexico City, Vancouver, Toronto, Sao Paulo, Chicago...
We can't get everywhere, but whether in person, online, or via the Call of Duty Official Launch Live Stream, know that it is fans like you, and your support, that make this possible. So thank you, Dark, and everyone in the Call of Duty community! I look forward to seeing you online at 12:02am!
Written by Michael Condrey
Categories Question of the Week
11/03/2011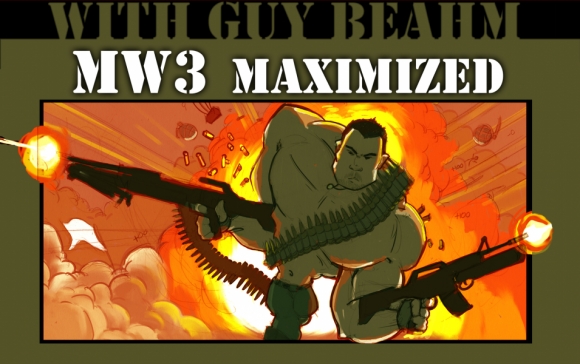 Hope you enjoyed the previous episode of MW3 Maximized.
What do you think of these so far? Are they informative? Enlightening? You can follow me on Twitter – http://twitter.com/guybeahm and provide your thoughts and feedback. Would love to hear what you have to say. Thanks!
This week's episode of MW3 Maximized is short and sweet.
While talking Multiplayer shop with Aaron Halon, Senior Development Director of Production here at Sledgehammer, we chatted on the subject of the Support Pointstreak, Escort Airdrop. I mentioned to him that it was a pretty valuable Pointstreak in the sense that not only does it drop multiple care packages pending on where you decide to place it, it also acts a line of defense, protecting those care packages from the opposing team for a certain amount of time. So imagine if you acquire the Escort airdrop and place it on a 'B' Domination Point. It could be pretty damaging for the other team right?
Well, I sometimes find that not all care packages are claimed once the Osprey leaves. The area that they now are occupying becomes sort of this battle zone full of grenades, concussions, and chaos. Aaron mentioned that if you equip the Trophy System, it may be good practical utilization of the device which deflects and disrupts any incoming explosives. I thought that was a great idea. Makes sense. I tested it and it was quite effective for these type of scenarios.
However, what about the enemies' incoming Predator Missile targeting that same area? Well, your Trophy System can take that down as well!
Written by Guy Beahm
Categories Modern Warfare 3
11/03/2011
Written by Sledgehammer Games
Categories Modern Warfare 3