10/08/2011

MW3 MP is just around the corner. Me and my friends can't wait!! What are you playing? I don't mean modes, I mean can you please tell me your favorite custom class.
-Jason Lee, Tampa, FL
Hey J (and friends of J),
With more than 40 weapons (each with multiple proficiencies you can earn), 28 point streaks, and a barrel full of perks to choose from, the custom class combinations are seemingly endless. I am constantly finding cool new ways to combine options. Some work for me, some don't, and some I haven't completely mastered yet. I am having a ton of fun working my way through the countless configurations.
Ok, so specifically, what I am playing now? My weapon of choice right now is the new SMG addition, the PP90M1, with the Two Attachments proficiency; Rapid fire and Extended Mag. It's a shorter range weapon, and I often lose in a distance based shoot-out, but up close it lays down a fierce amount of lead in a short amount of time. I like the Semtex for a sticky kill, which always warms my heart, and then the concussion grenade as my non-lethal. For good or bad, I've copied this class into slots 1 and 2, with one running the Assault Strike Package and the other running the Support Strike Package. That gives me flexibility to jump between Strike Packages based on the game mode or maps we are playing.
Word to the wise though, I die a lot. Seriously, a %&#@ lot. It doesn't help that I have guys here at Sledgehammer Games, like Guy Beahm, who are competition level and devs, like Aaron Halon, who have racked up double digit prestiges in both MW2 and Black Ops. So take my custom class for what it is worth. It's a good setup, but there are so many. The great thing is that the game is built to allow you to play your way, with more options and features tailored to maximize your individual play style.
Best of luck. Look forward to playing with you on 11.8.11.
Written by Michael Condrey
Categories Question of the Week
10/06/2011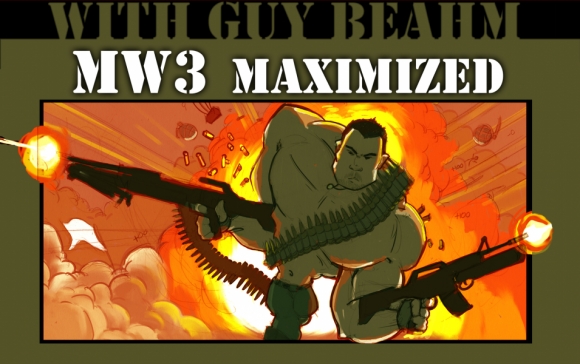 Welcome to MW3 Maximized with Guy Beahm!
Every Thursday leading up to the launch of Call of Duty: Modern Warfare 3, I'll give you a inside look at a new multiplayer experience or feature straight from the game. I would love to hear your feedback so feel free to drop me a note on Twitter.
With that said, shall we get this started? Let's introduce the Bouncing Betty!
Shall The Bouncing Betty can be chosen as part of your 'lethal' equipment. It's a frag device that, once it's triggered, launches into the air and explodes lethal shrapnel in all directions. Unlike the directional claymore, this can save you valuable time when planting. This new lethal device is great for quickly covering flanking routes when holding a capture point.
Just like the C4 and Claymore, the Bouncing Betty can be taken out with a few shots or a grenade, however, if you hear the activating sound of it launching into the air, immediately go prone! If timed correctly, the expert player will avoid the fatal impact.
Here's an example of good practical use for the Bouncing Betty. Let's say you are on the second floor of a building. You are in a power position, however, there is a high traffic flanking route leading to your location. If you wanted to temporarily close off that flanking route, rather than having to sacrifice yourself and position to plant a claymore, you can easily just toss a Bouncing Betty down the stairs or out of the window onto the cutoff. This should quickly cover your flank!
Written by Guy Beahm
Categories Modern Warfare 3
10/04/2011
Every once in a while the crew at Sledgehammer Games puts their cooking skills to the test with a traditional lunchtime potluck. This time around, in keeping with the theme of Call of Duty: Modern Warfare 3, the food was inspired by "Paris."
The team brought in their interpretations and renditions of plates that reminded them of France. Here's a short list from our prestigious cooks:
Beef Bourguignon– Beef stew braised in red wine
Ham Quiche– Deep Dish Ham Pie
Spinach and Pine Nut Quiche
Crepes Suzette– French Dessert
Bamh Mi– Traditional French countryside salad sandwich
San Vuong going to work on the Beef Bourguignon!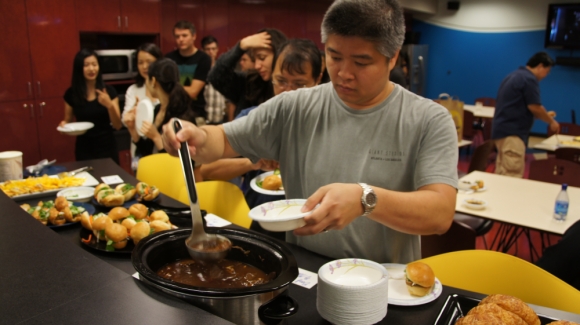 Did someone cut in line? A food argument and fight ensues…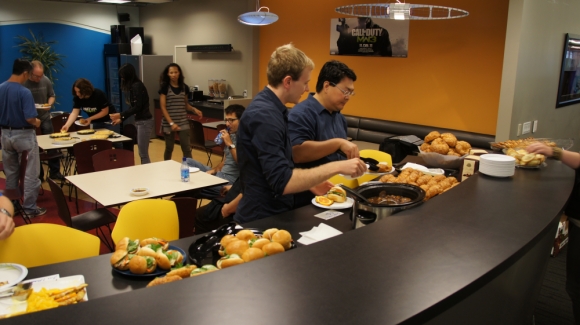 It only makes sense to have a variety of pie choices right?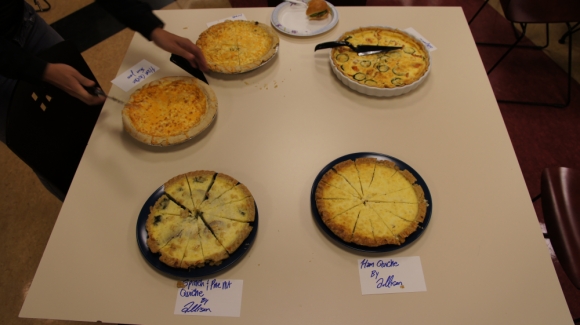 Mmmm, Delicious!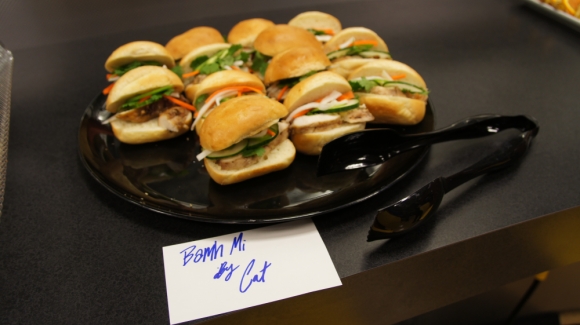 Written by Guy Beahm
Categories Culture
10/02/2011
And the winner of our September Hammer of the Month contest is...
Ryan Banks, aka Prestige is Key!
Congratulations Ryan! Your badge collection is top notch. It looks like you experienced most if not all the events from Call of Duty XP. You definitely blew away my puny collection of just two badges!
Check out Ryan's Collection: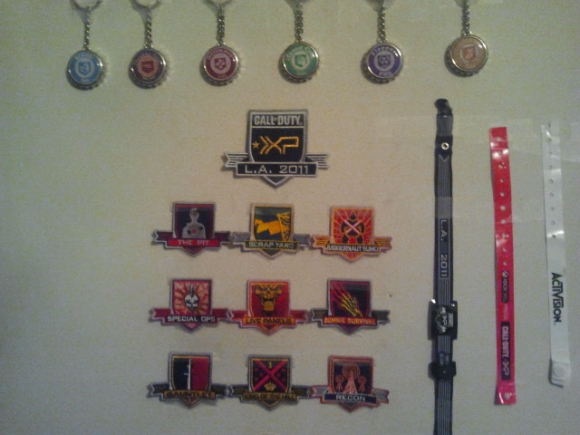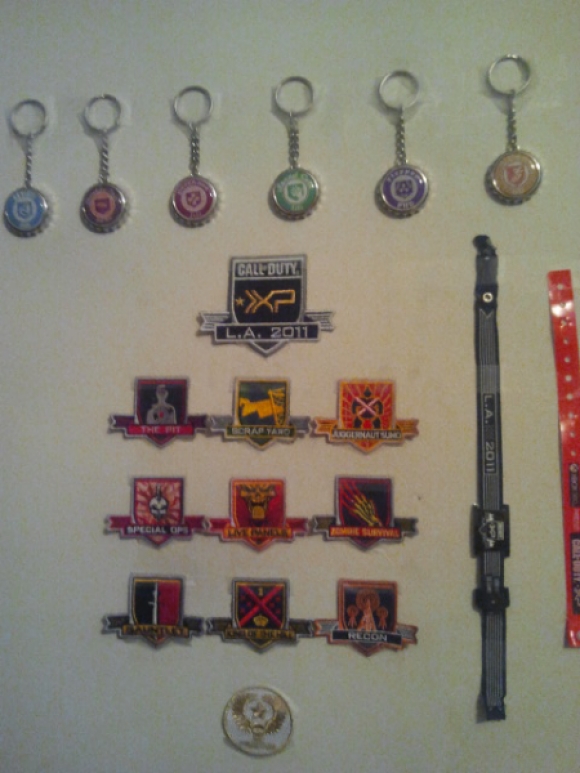 Well Ryan, the crew here at Sledgehammer Games is jealous of your badge assembly. We're also jealous of the prize you'll be receiving in this month's famous Tool Box of Chaos! What's in it you ask? Just like every other Tool Box of Chaos, you'll have to wait and see!
TOOL BOX OF CHAOS UNBOXING UPDATE: 10-19-2011
Once again, we had a lot of entries this month. We want to thank everyone for playing!
Are you ready for October's Hammer of the Month contest announcement? Well here it is: http://sledgehammergames.com/blog/view/81
Make sure to stay up to date on all things Sledgehammer:
Written by Guy Beahm
Categories Culture
09/27/2011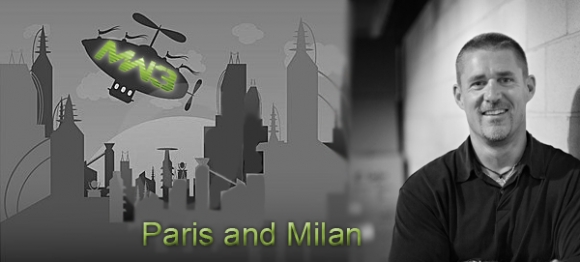 Day 9: In Paris. Woke up and met up with PR and Production including Josh and Shannon as well as Robert Bowling for a walk to the Louvre. We spent a couple hours there… it was amazing! Whether you like art or not (and I do of course), if you're ever in Paris you must go to the Louvre. It's not just a history of art; it's mankind's history and legacy.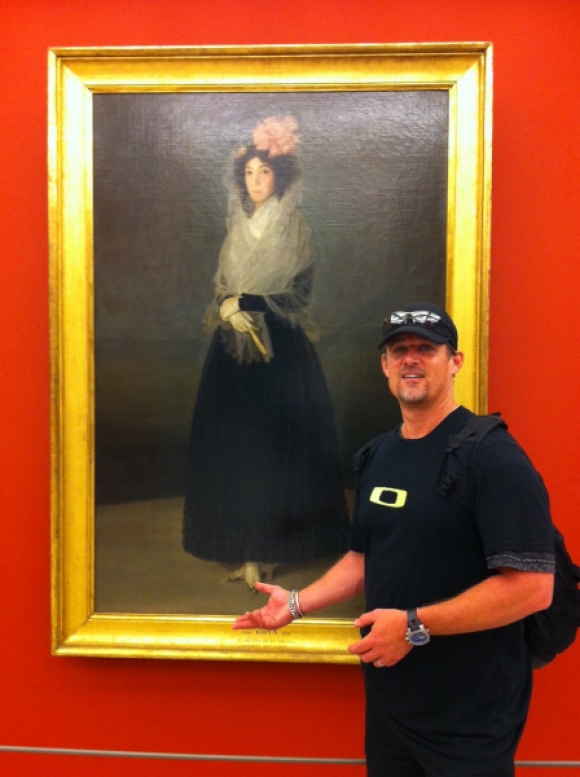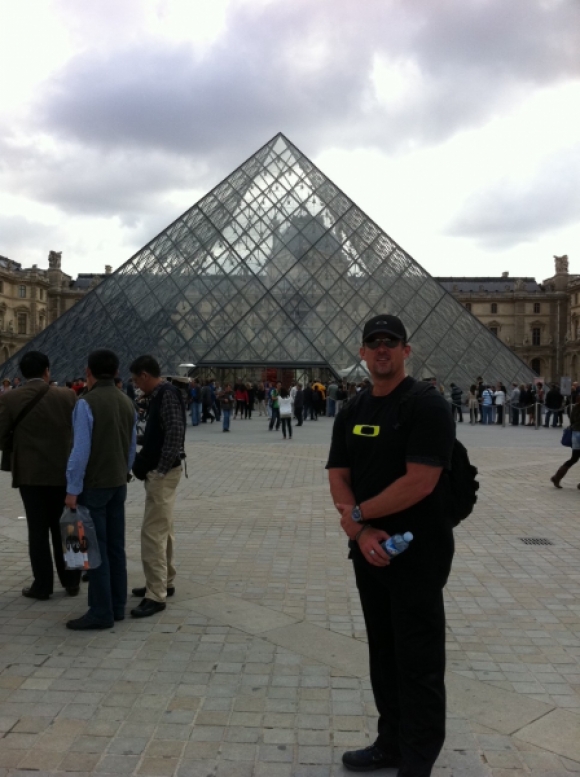 Headed over to the venue before dinner and checked it for audio and visuals. We then got on stage for some rehearsals. Setting up takes a long time, sometimes days, to make sure everything is right, including the script. We go over it dozens of times to make sure everything is covered but to also put it into our own words. After rehearsals, I went back to the hotel and practiced even more. I also worked on two pen and inks late into the night. Good day!
Day 10: Woke up early and headed to the venue as our first presentation was at 9am. We did three presentations and many interviews during the day. The press asked some very interesting questions. It was a lot of fun to answer these about 'developing the game' as opposed to checklists like how many levels, weapons, enemies, maps, etc… You don't need a developer for that. But when they want to get inside your head about game development, that's what I like!
I finished the evening watching the Yankees game while I worked on another pen and ink. Off to Milan tomorrow.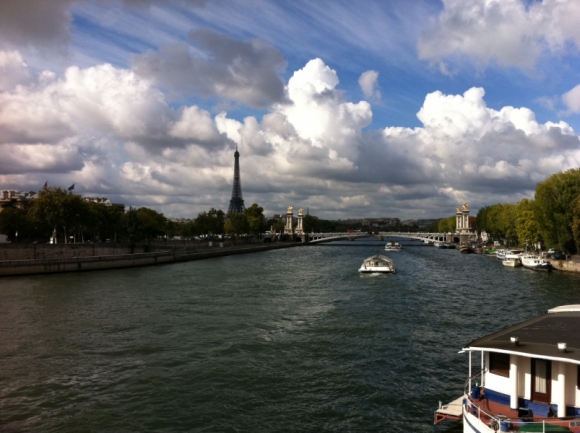 Day 11: I got up at 5:30 am to grab a van to the airport at 6. On the way to the airport, we were hit pretty hard from behind by another vehicle. Everyone was okay but the taxi van got pretty smashed. Obviously we missed our plane which was quite a pain in the neck.
We arrived in Milan mid-afternoon; everyone's feeling the effects from the long days, the non-stop working, and jet lag.
I had to get a haircut and shave for the upcoming shows- feeling kind of haggard. The concierge gave me the name of a place. I somehow got there… but to a locked door. I knocked and knocked and finally, a 70 or so year old barber answered kind of grumpy. I used my translate app and explained what I needed. Using only scissors this guy was a freaking magician- fastest cutting I've ever seen. He used a straight edge razor and shaving cream he mixed up himself. Then hot towels on the face. Gels, creams; holy cow it was amazing. For a brief moment in time I felt like a male model. Now I realized all the fuss about Italian barbers. I dare you to try it once!
I also bought some salamis for the team back home. Then it took almost an hour to catch a cab. In between I visited the cathedral, which is absolutely spectacular.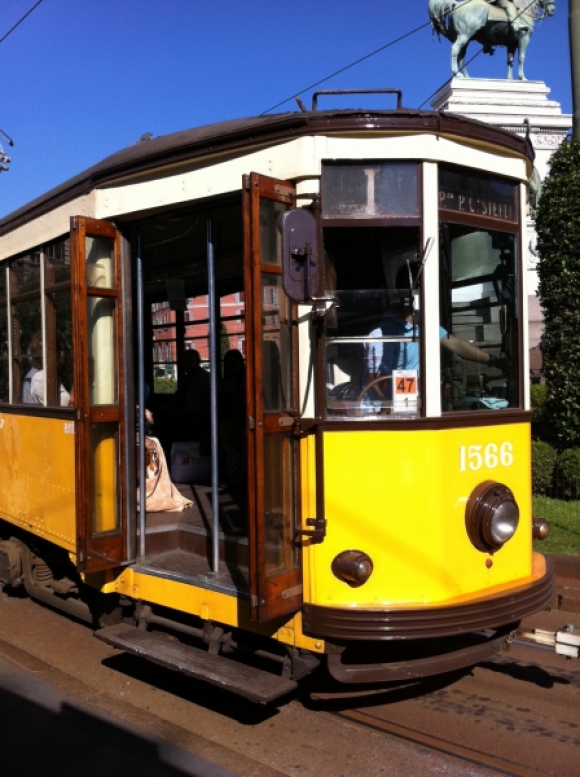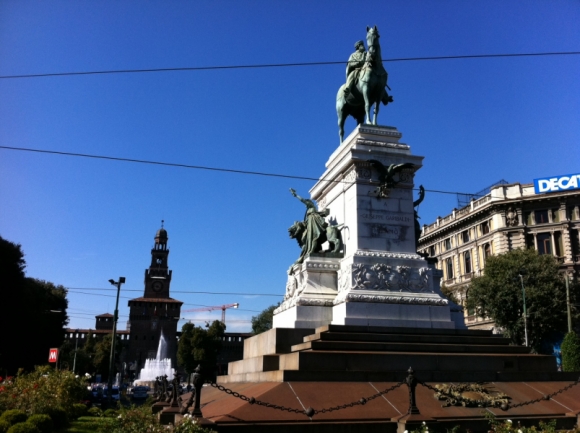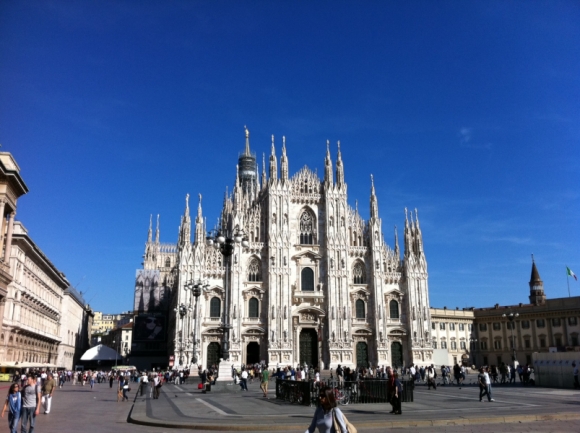 Day 12: Event day in Italy. Woke up early to work out and be ready and awake for a long day of interviews. Each group was brought into the viewing room where Robert and I did a shorter version of our presentation. Once we finished explaining the game, they split off to play spec ops while others interviewed us- separately or together. I think we had nine groups so it went from 10 am until 8:30 or 9pm. It was a long but excellent day. Well attended and very well planned by Francesca and the Italian PR crew. Always new food and drinks for the guests. Very open atmosphere- nice job!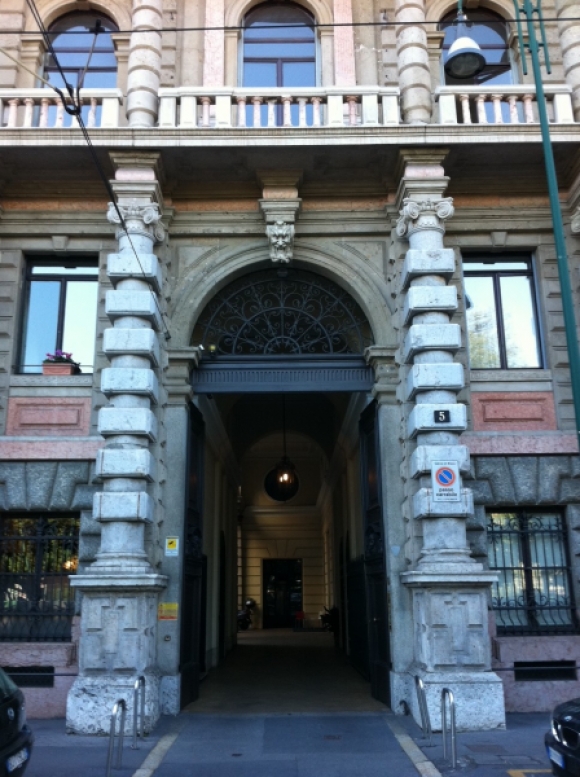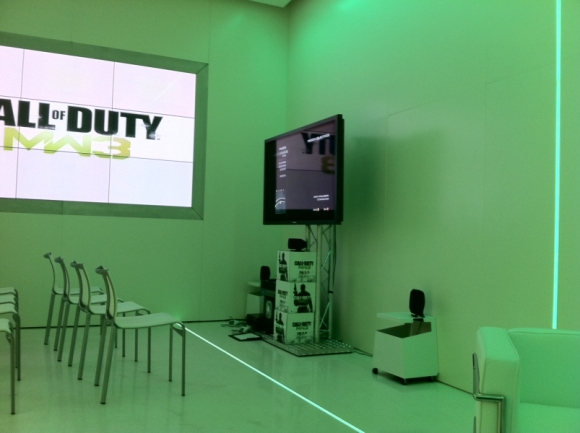 At lunch we had a 45 minute break and right across the street was a castle built in 1388. It was amazing, with a mote and everything us Americans know a castle to have.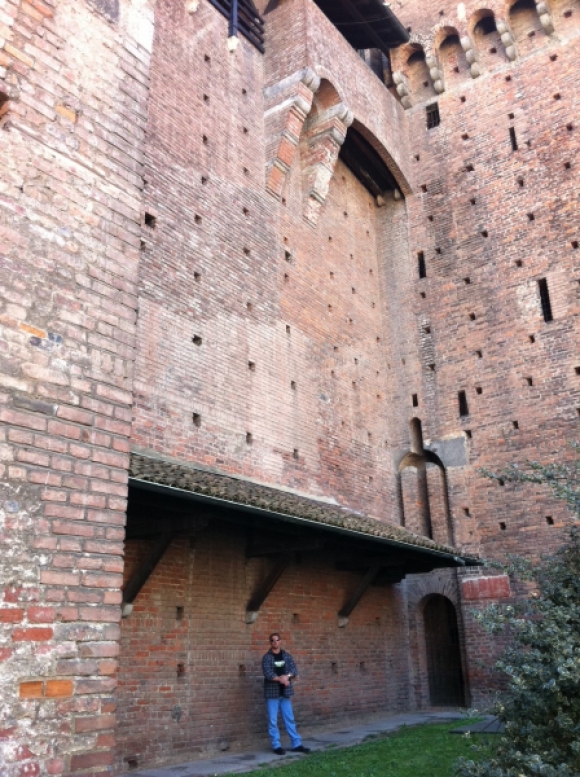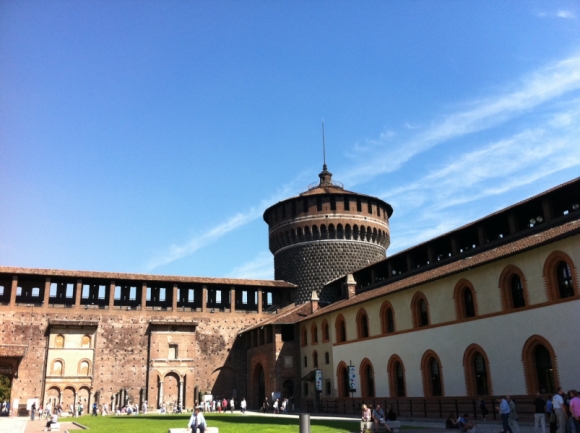 After the show was over we cleaned up and went out to dinner at 10pm! The Italian team took us to a great place only locals would know. It was jam packed and fantastic! There were so many flavors in one dish and the pasta was fresh. What a way to end the day. We toasted to a great show and got back around 1:30am.
Day 13: A bit of a day off thankfully. It served to be a good opportunity to catch up on the jet lag. Slept in, hit the gym and caught up on emails and work stuff.
Around 2:00pm, we headed out to the center of Milan for some food and a bit of tourism. Really took a look at the Duomo, the Cathedral of Milan which is spectacular. Everything was perfectly clean; perhaps they are getting ready for the World's Fair in 2015.
We then got some Panzotti, which could be meat or cheese wrapped in pizza dough and lightly fried- freaking amazing. It was nice to have locals help with recommendations.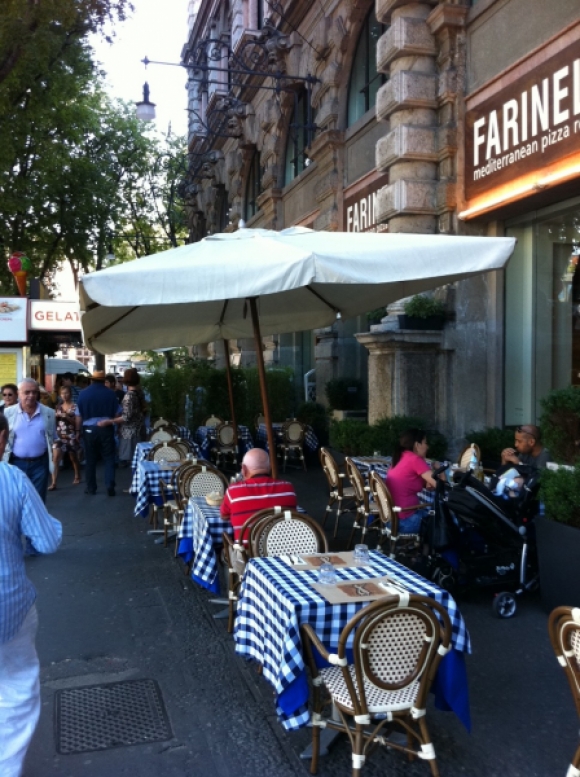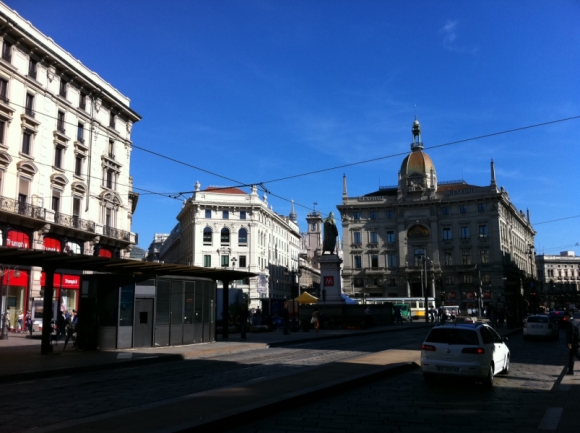 I then headed back to start the hated job of repacking for the flight to Berlin tomorrow. Afterwards, I did another pen and ink illustration. This is my sixth or seventh for the trip.
Overall, Week 2 was another success. Good events, lots of interviews and I met a lot of people. There is so much positive energy surrounding the game. People are really excited and there will be dozens of interviews hitting in early October. In between set up, traveling, customs, events, interviews and meetings we did manage, however briefly, to see the Louvre, Eiffel Tower, a car accident first hand, a 14th century castle, the Milan Cathedral and some great food.
Follow Glen on Twitter for daily MW3 World Tour updates.
Look back at Glen's previous destination, Japan: http://www.sledgehammergames.com/blog/view/71
Written by Glen Schofield
Categories Modern Warfare 3