08/09/2011
Written by Guy Beahm
Categories Modern Warfare 3
08/05/2011
Matt Olson asks: if you had to compare mw3 to a previous call of duty which game is it most like?
Hi Matt.
Your question caused me to pause and really think about my answer. I can't figure out if my brain is answering as a Call of Duty fan, or a Call of Duty developer. It probably comes from a position of both.
Every game in the Call of Duty series is based around certain core values to the property, but each also has its own flavor and personality. It's tough to directly compare this game to just one particular title in the series as each looks to build off of the greatest from the ones before, and to learn from the opportunities each presented. I think the campaign mode is bigger and more impactful than any of its predecessors. Innovations to Spec Ops, including Survival Mode, are really exciting and beyond either MW1 or MW2. From a Multiplayer perspective, most hardcore followers of the franchise say that Call of Duty 4 is the purest shooter in the series. Minimal air support, superb level design, gun skill based, etc. Modern Warfare 2 was fantastic in its own way as well. Customizable killstreaks, more weapons, and faster game play were some of the key expansions that made MW2 a very dynamic multiplayer experience.
We play Call of Duty: Modern Warfare 3 multiplayer every night at Sledgehammer Games. The game feels like it has gotten back to some of the roots of why this series has been so successful. It's a revamped engine with a refined approach on features. Our Community Manager, Guy Beahm, is a rabid high level MP player. He believes MW3 has taken MP to the next level, and I agree. (Or at least, I think so, since most of the time I feel like I am just running my head into his bullets.) There is elegance in the map design, with great flow and less verticality, a refocus towards gun skill, less noise in terms of air support, and teamwork is crucial for success. At least that is how I feel as a fan-boy/developer.
We understand that once the game is launched, it isn't the end of it. The fans are the key for great MP development. Constructive feedback is a necessity, and openness to criticism is a requirement. Here at Sledgehammer Games, we're big fans of Treyarch's community model because of how actively they interact with their fans. They continuously engage with their community and look for ways to help define the best multiplayer experience for players.
We have the same intentions. We'll be looking for feedback on how to give you the experience to date, and beyond, in the Call of Duty franchise. When 11-8-2011 comes around, please know we are all ears. Tell us what you like, what you don't, and where you'd like to see things go in the future. While you are at it, please quickscope the %$#& out of Guy Beahm if you find him online.
-Michael Condrey
Written by Michael Condrey
Categories Question of the Week
08/02/2011
In July's Hammer of the Month contest, we asked for epic Sledgehammer Games/MW3 themed pictures from our fans. We wanted it to be a photo that represented Sledgehammer Games in the most interesting way.
We received a lot of great submissions. Some serious. Some funny. Some just plain wacky. Yup, these are our proud fans and you are all winners in our book! Unfortunately we can only choose one winner to receive the HotM title.
So without further ado, July's Hammer of the Month contest winner is…
Frank L.
Madison, WI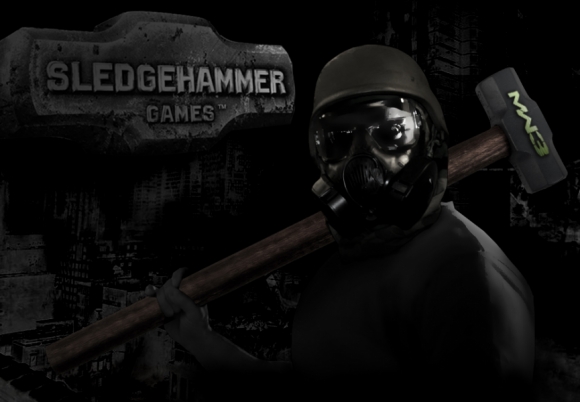 Congratulations Frank!
You've just won a signed signed MW3 poster from the development team at Sledgehammer Games! Hang it with pride!
Thanks to everyone who participated. Here were some notable runner ups:
Submitted by Lucious Law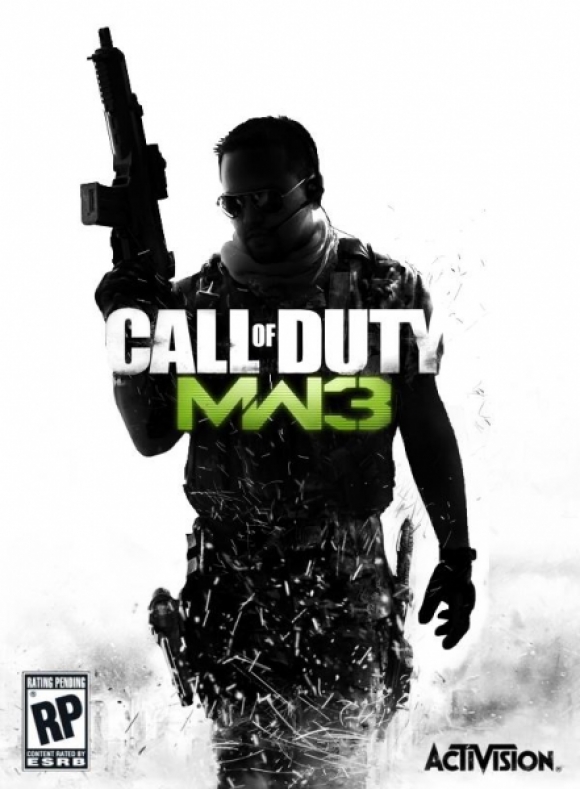 Submitted by Dylan Stembridge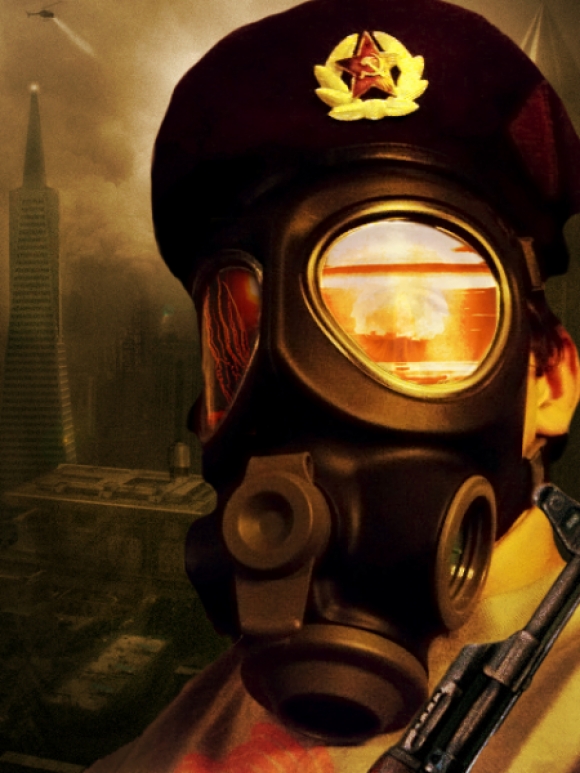 Submitted by Glen Schofield
Look out for the August Hammer of the Month contest to be announced real soon!
Written by Guy Beahm
Categories Culture
07/29/2011
Hello Sledgehammer Games!
I was looking at your studio pictures from your website. What's going on with your theater? From the videos that your Community Manager put together, it looks like there's definitely something new going on there. Care to explain?
Thanks,
Rick L.
San Bernardino, CA
Hi Rick,
Nice attention to detail! You are right. We just completed an upgrade to Scrap Yard, our studio Theater Room.
One critical design requirement for the studio build-out of Sledgehammer Games' new development space was a state of the art software review room. Our initial design focused heavily on functionality. We invested in high end, pro-grade audio and video equipment calibrated to the highest industry standards. The goal was to create a space that allowed for the purest media environment so we could experience the software in its truest form. That allowed us to focus our A/V feedback on critical polish items that would best showcase the game experience for the fans.
The amount of hours we've spent in Scrap Yard playing MW3 has been extensive. That is eclipsed only by the number of hours that Schofield has spent napping in Scrap Yard over the course of MW3's development. It didn't start as a luxurious room, and by its name, I think you can tell that it wasn't always peoples' favorite meeting room, but it was successful in serving its purpose.
Recently we transformed the room to also hold our 110+" HD projection screen and new seating for a more theater like demo experience. We still scrap in there as much as before, but now it is a lot more comfortable while doing it.
We're in the process of updating all of our studio pictures on the Sledgehammer Games' website including the theater room. We'll let you know once this happens. In the meantime, here are some before and after shots of the transformation.
Hope you enjoy!
-Michael Condrey, Co-Founder
Before: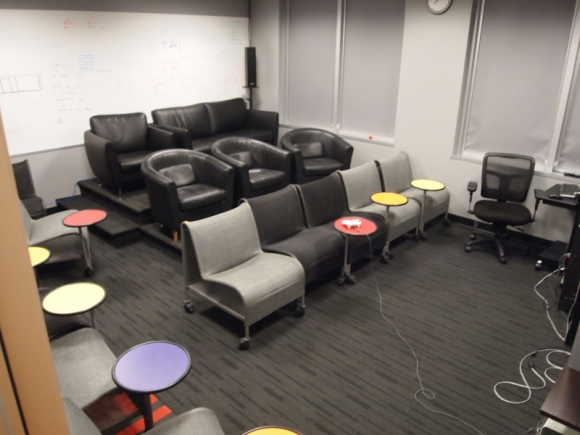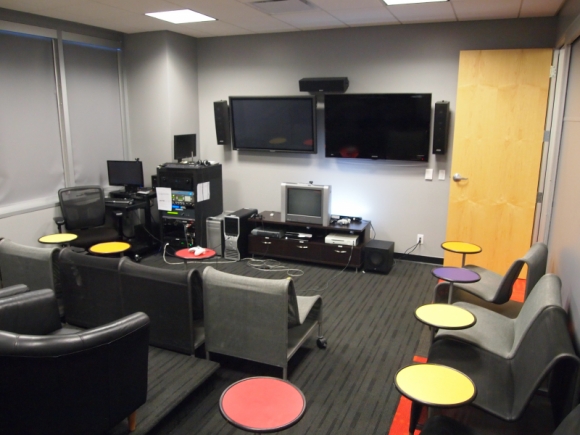 During: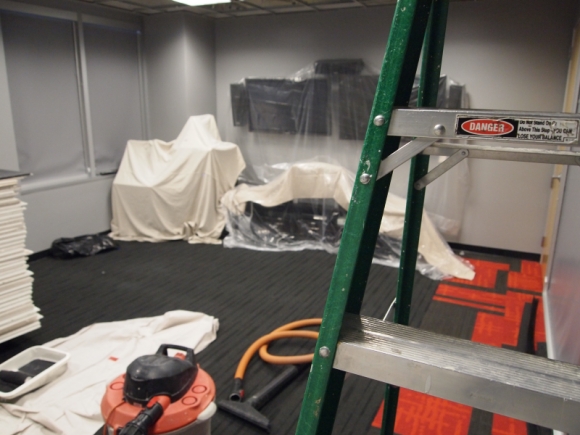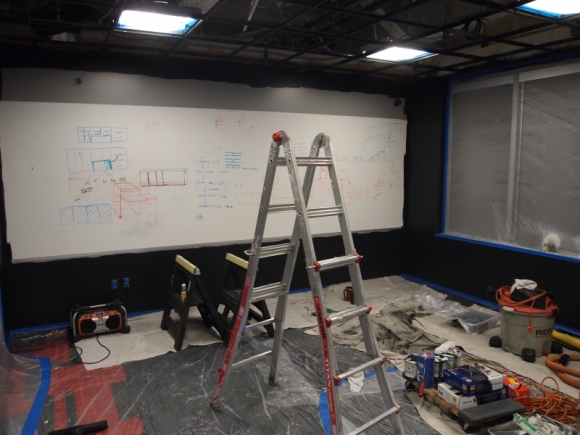 And the final results: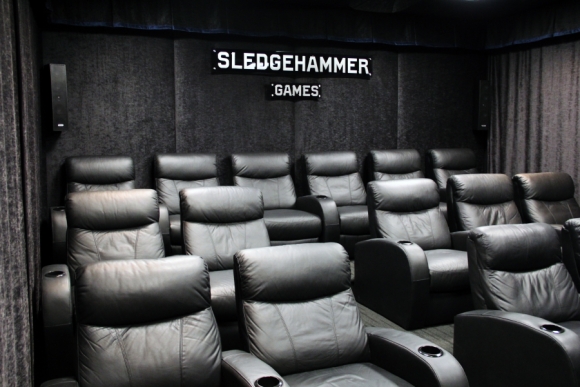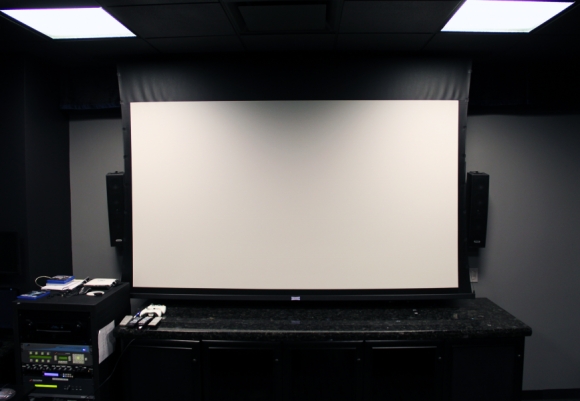 Do you have a question for Sledgehammer Games? We'd love to hear from you.
Send your question to: info@sledgehammergames.com
Written by Michael Condrey
Categories Question of the Week
07/26/2011
Kyle West, Community Manager for Call of Duty community website Digital Warfare 24/7, made an unboxing video of the Tool Box of Chaos. The Tool Box of Chaos is the mystery prize for our Hammer of the Month contests.
So, what did Kyle and the gang at Digital Warfare receive for winning the June contest? Watch to find out:
Thanks for the video Kyle! We hope you enjoy the Sledgehammer Swag and Turtle Beach PX5 headphones.
Remember guys, there are still a couple days left to get your entry in for July's Hammer of the Month contest. Find out how to win a signed Call of Duty: Modern Warfare 3 poster here: http://sledgehammergames.com/blog/view/41
-Guy
Written by Guy Beahm
Categories Culture