06/24/2011
My name is Anibal. I'm currently in high school and I'm looking to eventually work for Activision and/or a developer like Sledgehammer Games. I am currently trying to learn C++ and C#. If you guys could please offer some advice to help me become a better programmer or developer, I would really appreciate it. I am also trying to learn how to use 3ds max and Autodesk Maya for 3D rendering. Again, I would really love to work for you guys someday.
Hello Anibal,
Great name! Sounds like a good developer gamertag: cAnibal. or Maybe Anibolic? With a gt like that, I bet you tear up the MP leader boards ;)
Today the options for game developers are wider and more exciting than ever before. With the relatively recent introduction of mobile and social games now complementing AAA titles that rival Hollywood's best films, game development teams can be made up of just a handful of talented "many hats" developers, or can number into the multiple hundreds of development specialists. Find your interest; be it in art, engineering, audio, production, then strive to create work that you are proud to share. Be passionate about delivering excellence. It's fairly easy to make average software. Creating something gamers will love takes a lot of work, a lot of practice, and a solid commitment to your education.
Since you asked specifically about writing game code and more specifically rendering, I solicited some advice from Danny C., Sledgehammer Games' Principle Rendering Engineer. His advice:
1) First things first: Write a game.
This sounds daunting, until you realize you don't have to write a game that's as large in scope as your typical console game. Keep it simple. Design it, plan it out, use your Maya or Photoshop skills to create programmer art, and code it. Most game programmers I know started programming in middle school or high school and one of the first things they did after learning how to branch (if) and loop (for) was write a game. The fundamental challenge in game programming is problem solving and you'll get fantastic experience solving real game problems by diving right in. Almost every problem requires some sort of trade off. Using your critical thinking skills to make these decisions is important in figuring out your own programming style.
2) Learn 3D math/linear algebra
One of the prerequisites to working on rendering or physics code is knowledge of 3D math: the use of matrices in rotation and perspective projection, Euler angles, dot products, cross products. One way of getting this under your belt is taking a 3D graphics course in high school or college. Another is to learn from books and the internet. A deep understanding of 3D math will help in almost every aspect of game rendering, from the tools to the build pipeline to the game run-time.
The important thing is to keep at it. Your first game may not be great, but your second one will most definitely be better. At some point, you might join the console gaming industry or you might decide to become an independent developer. The great thing is these days both those options are available to you.
Best of luck, cAnibal!
- Michael and Danny
Do you have a question? Please submit them to info@sledgehammergames.com
Written by Sledgehammer Games
Categories Question of the Week
06/23/2011
Call of Duty has tens of millions of fans worldwide. It's no surprise that the latest installment in the franchise, Modern Warfare 3, has generated interest at an all-time high. We love all of our fans equally, and at times we get visit requests that turn us into fanboys too. Most recently, that included a visit from Glen Schofield's beloved New York Yankees.
"I'm a native of New York. I grew up in New Jersey and Manhattan so I'm a huge Yankees fan. Having the opportunity to hang with these guys while showing off our game is a once in a lifetime experience." says Glen. "Seeing Nick Swisher on the controls and playing the Hunter Killer level in New York Harbor was pretty neat. You can tell he's a fan."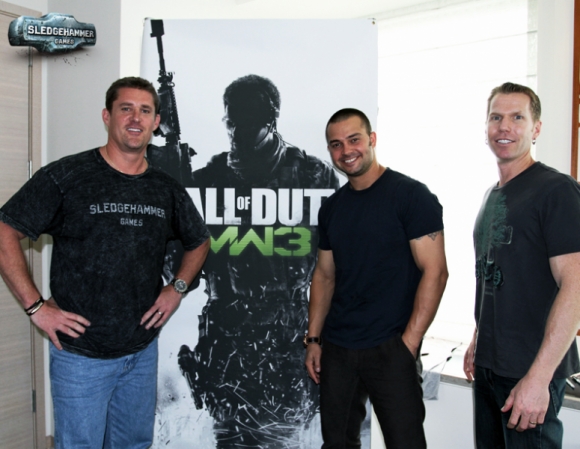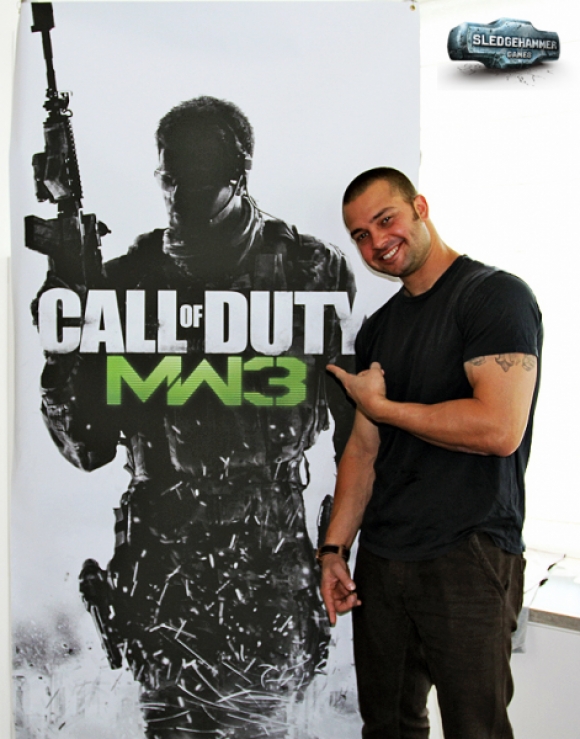 Nick Swisher wasn't the only Yankee in the house. Left Fielder Chris Dickerson showed off his skills. Pitchers David Robertson and Joba Chamberlain also hopped on the controls and played.
Glen continues. "The cultural impact of video games is really high. A lot of pro athletes today proudly claim they play video games as a way to relax. I know these guys travel a lot during the season. It was clear some bring their systems with them on the road just to stay competitive."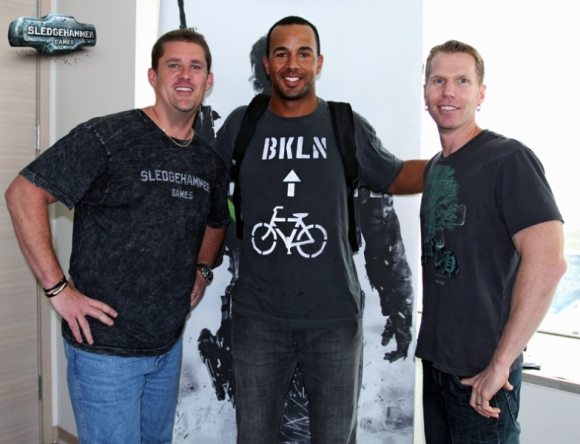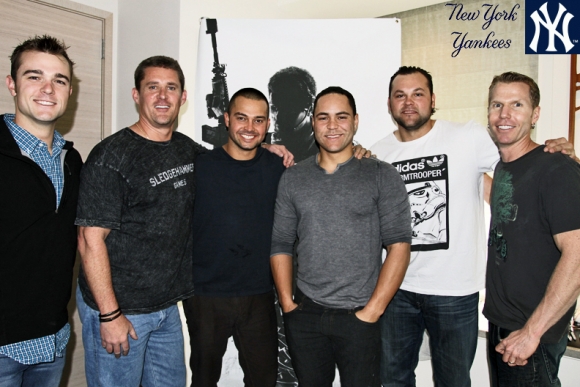 Sledgehammer Games thanks the New York Yankees, and all of our fans, for their continued excitement and support. We can't wait for November 8th, 2011 to share Modern Warfare 3 with you guys.
Make sure to check out our Facebook Page for more pictures!
Written by Guy Beahm
Categories Culture, Modern Warfare 3
06/21/2011
E3 2011 kicked off in a huge way with Sledgehammer Games and Infinity Ward showing off Modern Warfare 3 at the Microsoft Press Conference. The Sledgehammer crew was representing in full force with their MW3 shirts and hats while passing out MW3 decals. We've captured plenty of pictures to share so we hope you enjoy!
"E3 is the video game industry's largest annual US tradeshow," explains Michael Condrey, Co-founder and COO of Sledgehammer Games. "It's the chance for hardware and software developers to show off their latest creations. I always enjoy participating in the show - it is an exciting opportunity to see, in one place, the best of what is happening across the industry." Michael explains, "The developers at Sledgehammer Games pour their hearts and souls into making great video games. At the core of our studio culture is a commitment to the pursuit of excellence, and E3 gives us an opportunity, on a large scale, to validate that our software is meeting and exceeding that promise to the fans."
"This was my first E3." says Community Manager Guy Beahm. "I've always wanted to go, but until I started with Sledgehammer Games, like most fans, I only read about it online, or caught streamed videos from the conference. It was a great experience, especially being there with the Sledgehammer Games crew. The Activision booth was by far the biggest attraction at the show. Every couple of hours, the screens surrounding the booth would drop and boom, you're immersed in a MW3 cinematic world for 15 minutes. The audio was intense, the choreographed visuals between the screens were powerful, and most importantly, the reception was fantastic!"
Steven Spielberg is a fan!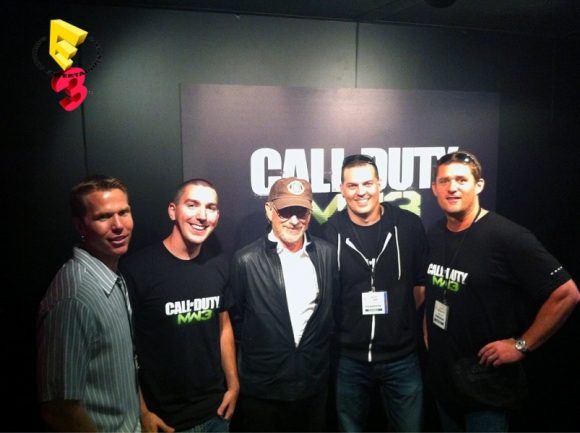 "The outpouring of interest and support for Modern Warfare 3 from the media, fans, retailers, and other developers was astonishing." says GM Glen Schofield. "I could not have been more proud of the work that Sledgehammer Games and Infinity Ward co-developed, or Activision's support with its best in class booth design. Based on what I saw at the show, gamers have a ton to be excited about this fall."
Additional E3 Media Links featuring MW3:
Gametrailers: http://www.gametrailers.com/video/e3-2011-call-of/715367
Gamespot: http://e3.gamespot.com/video/6318086/#toggle_video
IGN: http://www.ign.com/videos/2011/06/07/e3-2011-ign-live-modern-warfare-3?show=HD
We hope you enjoyed our E3 Wrap-Up! To view more pictures, head over to our Facebook Page.
Written by Guy Beahm
Categories Culture, Modern Warfare 3
06/17/2011
I heard that you guys were pulled from one project to help develop MW3. If this is true, then how hard/easy/confusing was it to get the team rolling on MW3 over the project you had been working on? And will the transition back be just as easy or difficult?
- Joshua Malone
Fullsail University Game Design Student
Hi Joshua, thanks for your question.
Sledgehammer Games was founded in July 2009 as a new Call of Duty development team within the Activision family of independent studios. We initially prototyped a few ideas around an Action Adventure game within the Call of Duty universe. There was a lot of passion and excitement about the idea of expanding into the Action Adventure space and we built a complete playable demo experience proving the validity of the concept.
We were presented the option to co-develop with Infinity Ward, one of the industry's most acclaimed development studios, on the follow up to the critically acclaimed Modern Warfare 2. It was an unexpected opportunity to work with a studio known for their history of delivering world class software, on a franchise we have all loved as gamers and developers for a decade. We discussed the option with the team, and collectively agreed it was a rare opportunity that we couldn't pass up.
We were in a fortunate position at Sledgehammer Games in that we had a very senior team with a deep background in FPS development experience, and familiarity with the IW technology. Still, I'll be honest, the ramp up wasn't easy. Then again, the most worthwhile things in life rarely are easy. I couldn't be more proud of the commitment from the team to push themselves to master the pipelines and to quickly begin contributing to the co-dev effort.. We are also extremely thankful to the developers at IW who were key in helping the knowledge pass down to their counterparts at Sledgehammer Games. Without their support, the ramp up would have been much more challenging.
Now, with both teams pushing ahead at full steam, we have an unprecedented amount of talent focused on the game. The dynamic between the studios invites collaboration, challenges quality, and encourages the development of the best ideas across the game. With support from others across Activision, Modern Warfare 3 is on track to be the deepest and most epic offering in the franchise yet.
- Michael Condrey, Co-founder
Do you have a question? Please submit them to info@sledgehammergames.com
Written by Sledgehammer Games
Categories Question of the Week
06/17/2011
Sledgehammer Games and Infinity Ward talk shop in this exclusive backstage video from Late Night with Jimmy Fallon.
We raise the question: What's some of your favorite classic video games?
Written by Guy Beahm
Categories People, Modern Warfare 3