12/10/2010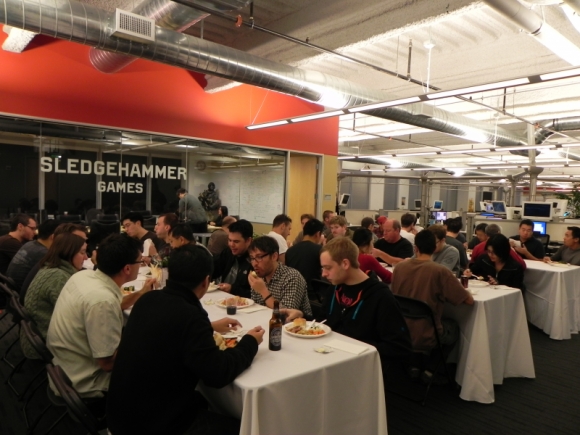 Sledgehammer Games celebrated their 2nd Thanksgiving with a cozy studio meal.
Now that the team has grown to just over 80 employees, it was tough finding enough seats but we managed to fit everyone.
We had a fantastic local company in Foster City called Piccadilly Catering provide the food (turkey, stuffing, pumpkin pie...).
Glen and Michael served the team as a gesture of thanks.
Happy Thanksgiving from Sledgehammer Games!
Written by Catherine Sheu
Categories Culture
12/01/2010
On Tuesday, November 23rd a philanthropic minded group of Sledgehammer employees carved out time from their schedules, collectively jumped into their cars and drove up to San Francisco in order to volunteer at the San Francisco Food Bank.
The 20 employees, while fashionably donning hairnets and surgeon-like rubber gloves, proceeded to cut, sort-out, weigh, box and label approximately 3500 packages of vermicelli pasta that would ultimately provide 6000 meals.
This was no minor feat for the small, but mighty group. The team was especially proud of their accomplishment because they were able to give back to others in need during the Thanksgiving Day season.
When all is said and done, our team understands that there is more to life than making video games. Our community is fast becoming part of our studio DNA.
Stay tuned for more Sledgehammer volunteer events in 2011!
Written by Kerry Fischer
Categories Culture
11/05/2010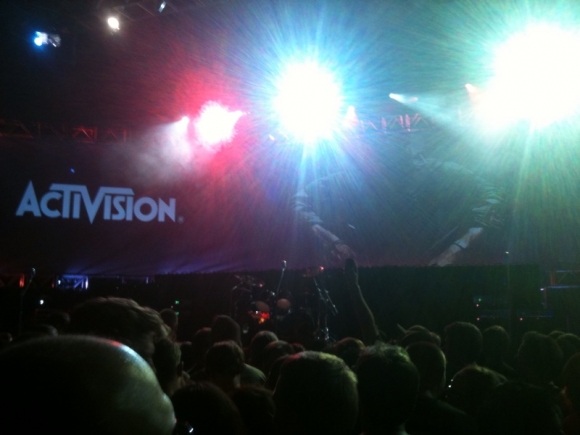 Glen and Michael showed their support for the Call of Duty Endowment and upcoming Black Ops game at the US launch party in LA last night. They rubbed shoulders with the likes of Kobe Bryant, Zach Braff, and Metallica at Santa Monica Airport's Hanger 8.
Also at the event was a multiplayer tournament featuring six branches of the US Armed Forces: Air Force, Army, Coast Guard, Marine, Navy and National Guard.
Bobby Kotick presented a check for $1 million dollars to the Call of Duty Endowment which is a non-profit, public benefit corporation founded by Activision Blizzard that helps soldiers transition to civilian life.
Check out the photos from the event.
Written by Catherine Sheu
Categories Culture
11/02/2010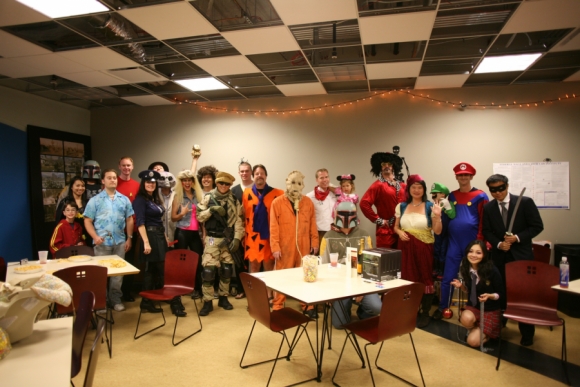 Last Friday we decorated the studio and had a big Sledgehammer Games Halloween Party. We had a pumpkin bowling break in the morning, where Condrey the Sheriff put a hole in the wall! Followed by a Candy Corn Catch with our very own Dee Snyder!
As always we had to have some kind of food related contest - this time called the Eyes in the Pie where 4 contestants searched for gooey eyeballs in Pumpkin Cream Pies! Robin prevailed and got each of his team members an extra raffle ticket for cool prizes.
We then ended the evening with a Costume Contest for best group (winners: Mario, Luigi, & Princess) and individual (winner: Scarecrow).
Check out the great costumes and pie cream covered faces!
Written by Catherine Sheu
Categories Culture
09/24/2010
Sledgehammer Games had their first annual family BBQ. It gave us the opportunity to take a break from playing video games and spend time with our families in the bright sunshine! Emergency BBQ catered a variety of delicious meats which were all marinated in beer. This was accompanied by the best cupcakes on earth from Sprinkles!
In classic Sledgehammer fashion, we couldn't have a BBQ without a Spicy Wing Challenge. The marinade for the spicy wings were a special recipe made just for us: Smoked Habanero Chicken Wings. We may have inspired them to create a contest at their restaurant… future Man Vs. Food? Check out the pics of the event and our winner Aaron who managed to eat 16 wings!
Written by Catherine Sheu
Categories Culture